07 July 2016
Many of the 80 Christians who live in the village were injured

A MOB of 5,000 attacked a group of Christians as they attempted to build a church, the latest in a string of violent attacks in Egy
31 January 2014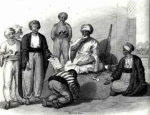 Quran 9:29: Fight against those who believe not in Allah, nor in the Last Day, nor forbid that which has been forbidden by Allah and His Messenger and those who acknowledge not the religion of
04:26 Posted in Egypt, IRAQ, Lebanon, Middle East, Real Islam | Permalink | Comments (0) |
Facebook |
18 August 2013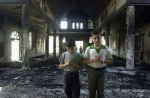 This story starts out blaming both sides equally and then gets around to mentioning in the fourth paragraph that all the destroyed properties were Christian-owned. Muslim Brotherhood supporters blame the Christians for the ouster of Morsi.
03 July 2013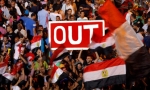 Congratulations to Egypt.
15 May 2013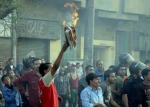 (Reuters) - Egypt's prosecutors on Tuesday referred a Christian schoolteacher to trial on charges of insulting Islam, judicial sources said.(A Bible is burned in front of a Christian cathedral in Cairo. )
17 April 2013
Our friends in Egypt can be so empathetic. Take for example this interview with Egyptian Salafi cleric Sheik Murgan Salem, which aired on
11 April 2013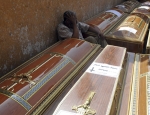 Egyptianpolitical intellectual and writer Amin el-Mahdi described the recent assault on St. Mark's Cathedral and Al-Azhar earlier as an attempt for "sectarian fragmentation" by the Muslim Brotherhood in order to control Egyptian society.


An Coptic cleric said that Muslim extremists are targeting Egypt's Christians.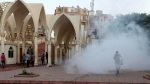 A statement on Tuesday by an Egyptian presidential aide accusing Christian Copts of being the cause of Monday's clashes near Cairo's Abbasiya Cathedral has caused public outrage.
27 January 2013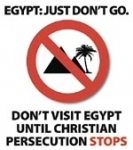 Fight those who believe not in Allah nor the Last Day, nor hold that forbidden which hath been forbidden by Allah and His Messenger, nor acknowledge the religion of Truth, (even if they are) of the People of the Book, until they pay the Jizya with willing submission, and feel themselves subdued." -- Qur'an 9:29
21 January 2013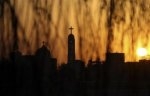 Cairo (AsiaNews / Agencies) - More attacks against the Coptic minority in Upper Egypt. A thousand Muslims attacked the predominantly Christian village of el-Marashda (province of Quena, Upper Egypt). Incited by outside religious authorities, extremists burned down