09 April 2017
gypt bomb attacks: Death toll reaches 47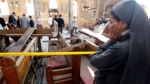 CAIRO (ANA/ N. Katsikas) The death toll from the two bomb attacks on Coptic churches in Egypt has reached 47, sources at the country's health ministry said on Sunday.
According to the latest reports, the attack on Palm Sunday congregations left 29 dead in the city of Tanta and 18 dead in Alexandria, which is also the seat of the Coptic Orthodox Church Pope.
Scores more people have been injured, with reports talking of some 71 injured in Tanta and 66 in Alexandria.
The Orthodox Patriarch of Alexandria and All Africa Theodoros II expressed his horror at the Palm Sunday terrorist strikes, in statements to the Athens-Macedonian News Agency (ANA), noting that the events darkened one of the greatest Christian holidays.
"We stand at the side of the Egyptian people," he said.
Two bomb attacks targeting Coptic church took place in Egypt on Sunday, the first at the Church of St. George in the city of Tanta and the second at the Church of St. Mark in the city of Alexandria, relatively near the Greek-Orthodox Patriarchate of Alexandria and All Africa.