13 April 2017
Muslims attacked Christians over prayer in Egypt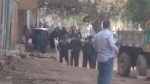 A Copt from the village of Koum El Loufi in Minya screams;
The attacks of all the Muslims of the village on the Copts, even women and children, and why Christians in the village received a security permit to pray in the house of a Christian.
After the Mass, we SURPRISED hundreds of Muslim residents of the village. They beat us SHOUTING "Islamic ...Islamic " AND insulting the Cross, AND Christian religion and EGYPTIAN POLICE dispersed the Muslims without arresting them.
A few hours later, the assaults were resumed at 12:00 Am after the Muslims who burned 5 houses of the Copts in the village, including Issa Saroufim and Girgis Rizk. Security forces arrested a young Coptic Christian Daniel Boutros for allegedly burning his house and an uncle's house. thats how the Egyptian's police deal wih the copts.
Appeal to Al-Sisi and Minister of Interior please help the christians in the village .