14 April 2017
U.S. Woman Stabbed to Death by Migrant Who 'Recently Arrived' in France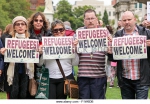 A 52-year-old woman from the U.S. was taking photographs in an eastern suburb of Paris when a person police say "arrived recently in France" stabbed her several times from behind.
According to Le Parisien, the woman collapsed immediately when a homeless man stabbed her in the back several times and sliced her carotid artery at just before 4 pm on Thursday. Emergency services arrived quickly on the scene but were unable to resuscitate the victim
"I heard a woman's cry, then saw an older man leave the Rue Marcel-Dufriche with a big knife in his hand," said the manager of a store located close to the crime scene.
He told the newspaper: "[The assailant] threatened passers-by and was going back and forth between the victim and the [graffiti-covered] wall of the Halle Marcel-Dufriche. The police arrived very quickly."
Officers found the knifeman, who is of foreign origin, "in an alcove next to the crime scene, with a blood-stained knife in his hand" and took him into police custody.
The judicial police in charge of the case said the suspect made incoherent remarks, and that his reason for launching the attack is unknown. According to police sources, the man "was living in a vacant lot nearby", and had "arrived recently in France".
At the time of the deadly attack, which Le Parisien called "as sudden as it was violent", the American was taking photographs of "street art" in the downtown area of Montreuil which is known for its graffiti.
The commune is located in Seine-Saint-Denis, the department in France with the highest proportion of residents born abroad — where in February the Korean embassy warnedcitizens against visiting after men looted a coach full of tourists before trying to set the vehicle on fire.
Last Friday in a supermarket in Marseille — billed Europe's most dangerous city, where an estimated 30 to 40 per cent of residents are Muslim, a woman was stabbed to death in front of her three children and other customers. As with the murder in Montreuil, police said the reason for the attack is unknown.