25 April 2017
Lahore: Church torched after congregants marked Good Friday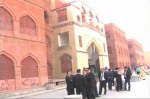 Vandals purportedly torched a make-shift church built on a vacant plot in Lahore. The incident occurred on April 14, after the congregants had observed Goof Friday prayers. Followed by the incident, District and Sessions court was moved seeking justice in this case.
In this regard, a petition was filed in the court, while it was maintained that the church built on an eight-kanal plot was torched by assailants who had previously warned the Christians to vacate the plot. The petitioner Rani Mughal maintained that the assailants warned them of dire consequences, if the plot was not vacated immediately.
Also Read: Case registered against perpetrators of sexual assault on a Christian teenage girl
The petitioner had named Munib Usmani, Mukhtar Bajwa, Ahmed Usmani and Sohail Dar, and others. A day after the threatening Christians, the assailants arrived again and ransacked the tents set up on the plot while they torched the makeshift church.
In this regard, the petitioner requested the court to direct the concerned police officials to register a case and proceed with the investigations. The district and sessions court has sought the comments of concerned SHO.
A Christian social worker Kashif Sohail, told the media that place was torched however, no one was injured as the assailants wanted to terrorize the community. He said that the affected Christians went to the local police station but their compliant was overlooked. Consequently, they had filed a petition in the district and sessions court seeking justice and legal action against the attackers.
On the other hand, the Cantonment SP Operations Rana Tahir Rehman remarked that the matter was referred to Defence ASP. He said that a report will be submitted within three days. "It is premature to confirm anything at this stage," SP Operations remarked.
http://www.christiansinpakistan.com/