01 May 2017
Pope Francis Is Gullible..!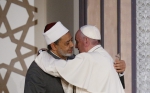 Pope Francis visited Egypt on April 28th through the 29th. While Christians of Egypt are having the worst week of their lives, Pope Francis thanks the audience in Al-Azhar and Ahmed al-Tayeb , the chief imam of Al-Azah, the influential educational and religious complex in Cairo . Between Palm Sunday and Easter, the Christians of Egypt had two church bombings. In addition,the following Wednesday, the
Muslims attacked the village of Koum El Loufi in El Minia for the second time in one month. Muslims attacked a village of Copts, showing no mercy to even women and children. These Christians receive a security permit to pray in the house of a Christian. After a Mass, they were surprised by hundreds of Muslim residents in the village. Muslims attacked Christians over prayer in Egypt
Muslims beat them and shouted, "Islamic…Islamic!" They then insulted the cross and Christian religion. Egyptian police dispersed the Muslims, but did not arrest them. The assaults then resume at midnight after a Muslim burns down five Copt houses in the village. Issa Saroufim and Girgis Rizk were included in the burning. Security forces arrest Daniel Boutros, a young Coptic Christian, for allegedly burning down an uncle's home and his own home .This is how the Egyptian police deal with Copts.
A painful message from the children of Kom El Loufi to President of the Sisi: MR PRESIDENT, we wants to pray and build a church https://www.youtube.com/watch?v=47EEYW5zHWs
The next day, the body of a fifteen year old Christian boy (Jamal Allam Bashai ) is found behind an agricultural association building in the village of Gai, Bani Sweif with his throat cut. What peace is Pope Francis talking about?
Unbeknownst to Pope Francis, every person in Egypt has their name and religion on their ID.This is required by the government. But this isn't the only detail Pope Francis is unaware of. No Christians are allowed in homeland security, leadership positions, or the Egyptian CIA. Christians are not allowed to have top jobs in the government; only one governor in the last 150 years was Christian.
The only application in the Egyptian government is free when you apply for Islam conversion in Al- ZAhar.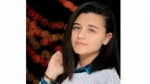 Pope Francis is unaware of .No Muslims were ever charged with the kidnapping of young Christian girls throughout the history of Egypt.Marina Nashat 17 YEARS OLD (UNDER AGE) The disappearance was on Wednesday, March 8. Killing christians women.Muslim man sexually harasses, cuts throat of Christian woman on busy street Another case on April 29, The innocence of the accused in the attempt to kill a Coptic .. The Attorney General obstructs the appeal Maryam Sulaiman Abdul Maseeh 55 years old .She stabbed three times by Muslim man (https://www.youtube.com/watch?v=Xw6K6TJbbXI )
Pope Francis is unaware of .Schools ranging from elementary level to college level education are funded by all Egyptians. However, Christians are not allowed to attend these schools. Al-Azhar University has over 2.5 million students, yet none of them are Christian.
When Pope Francis made his speech inside this building, he claimed it was peaceful. unaware Each Friday, every mosque and sheikh from Al-Azhar pray about every sick Muslim, and about misfortune falling upon Jews and Christians. Three churches were bombed within three months.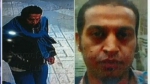 Suicide bombers were detained by Egyptian police, but were let go later on. A security guard at the Tanta church in St. George did not check bags. No police officers were charged or investigated for the deadly bombing on Palm Sunday.
Pope Francis said Egypt saved the whole world during Joseph's time. They saved the holy family 2,000 years ago. Egypt is not safe or peaceful for the Christians living there now. What Pope Francis saw during his trip wasn't the true life of Christians in Egypt. In Pope Francis's speech, he said we could have conversations with people that hide things and are not honest. Pope Francis should know how the Christians in Egypt live before making a speech and reporting information back to the West. It's a miracle that there are still Christians in the Middle East when they are forced to live under the conditions of Muslims and Sharia Law. How can people tell you this country is civil and peaceful when looking at the Christians' rights and religious freedom?
By Amgad Zakhari
08:23 Posted in Egypt, kidnapped christian girls, Middle East, Real Islam | Permalink | Comments (2) |
Facebook |