18 August 2013
Egypt: Muslims torch seven Christian homes and five Christian-owned businesses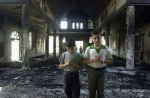 This story starts out blaming both sides equally and then gets around to mentioning in the fourth paragraph that all the destroyed properties were Christian-owned. Muslim Brotherhood supporters blame the Christians for the ouster of Morsi.
"Egypt: Fifteen Injured in Sectarian Clashes in Minya," from Aswat Masriya viaAllAfrica.com, August 4 (thanks to AINA):
Fifteen people were injured, including one police officer and three conscripts, in confrontations between supporters of ousted president Mohamed Mursi and residents of Minya's Beni-Ahmed village late on Saturday.
Sectarian tension that erupted at a Coptic Christian's cafeteria on Saturday between the villages' Christians and Muslims escalated to both sides hurling stones and Molotov cocktails and firing shots at one another.
An eyewitness said that the confrontations led to the torching of seven residences, the destruction of five vehicles, a kiosk, a coffee shop, two supermarkets and a pharmacy.
All desttroyed properties belonged to coptic christians who make up Egypt's largest minority - estimated at about ten percent.
A security source said that police forces halted attempts of residents of a neighboring village to join the confrontations.
Security efforts were enhanced in the governorate as Sate Security forces used teargas to disperse the clashes and contain the chaos.
Tens of Muslim assailants also attacked the Evangelical Church in the governorate and hurled stones at the residences of Coptic citizens following the spreading of a rumor that Coptic assailants torched a mosque in a neighboring village.
Eyewitnesses said that the front of the church was destroyed in the attack.
http://www.jihadwatch.org/2013/08/egypt-muslims-torch-seven-christian