25 December 2012
Father Christmas off air in Uzbekistan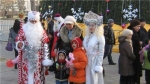 Television viewers in Uzbekistan looking for the familiar features of Father Christmas on their screens this year will be disappointed following an unofficial ban by the state broadcaster.
It is the latest move to downgrade Soviet or Russian heritage in modern Uzbek culture.
Celebrating Christmas characters became popular when largely Muslim Central Asia was a part of the Soviet Union.
It is not clear who gave the order, but Father Christmas (known locally as Grandfather Frost) and his female companion Snow Maiden, once regular fixtures, are now apparently unwelcome foreigners.
"We are told not to show Grandfather Frost and Snow Maiden on TV at all," says an Uzbek TV journalist in Tashkent.
"We can show a small New Year tree but it should be somewhere in the background."
The journalist does not want to be identified and does not know if the order came from the government or the president's office.
But in Uzbekistan where the press is under tight control - nothing like this happens without the government's approval.
"All TV programmes can only mention that a new year is coming and that's all. We shouldn't mention the word Christmas either," the Uzbek journalist goes on.
"Our bosses say that it's important to protect our Uzbek culture from foreign influences."
Uzbek TV chief editors deny that Grandfather Frost and other Russian/Soviet New Year characters are banned and say neither is celebrating New Year in Uzbekistan.
The latter is certainly true.
New Year trees have been erected in central squares across Uzbek cities and residents say New Year entertainment programmes for children are still being organised - but on a much smaller scale than in Soviet times.
New Year has long been celebrated as a big family event in this predominantly Muslim region.
It has never been seen as something religious.
Instead, in Soviet times it was promoted as one of the festivals that would unite the multi-ethnic and multi-religious peoples of the "red empire". And it worked to a certain extent.
Many Uzbek families still keep old Soviet-made New Year decorations and they still buy New Year trees. Extended families gather for a generous feast on New Year's eve.
But it seems the Uzbek government is quietly trying to remove this old Soviet tradition.
There are also attempts to discourage or control "Western" cultural imports, such as rap music and alternative youth culture.
Earlier this year Uzbekistan banned Valentine's day and introduced plans instead to commemorate the medieval Uzbek emperor and poet, Babur, who became the first Mughal emperor and was born on 14 February.
And at a time when the influence of Islam is growing in all Central Asian countries, other Soviet or pre-Islamic Zoroastrian traditions are slowly disappearing as some people stop celebrating events considered incompatible with Muslim beliefs.
"I didn't go around a fire on my wedding day," says one young Uzbek man, referring to the pre-Islamic wedding ritual the bride and groom are required to perform on their wedding night.
"Worshipping fire is un-Islamic and pagan."
He says his wedding party was organised according to Islamic values and they did not play music. Men and women sat in separate rooms.
Many people find it hard to believe that former communist politicians notorious for their harsh treatment of Muslims are now trying to appeal to the growing number of devout Uzbeks in society.
News of the disappearance of Grandfather Frost from Uzbek TV channels has been causing a heated debate among Uzbeks on the internet.
Some say that governments should not ban traditions and it is up to individuals to decide what they adhere to.
Other Uzbeks have welcomed the decision. They want Grandfather Frost outlawed and all New Year celebrations banned.
But despite attempts to impose a contemporary, home grown culture, new Western delights are becoming part of popular culture in Central Asia.
Lavish wedding cakes, brides throwing their bouquets over their heads or families calling in Grandfather Frosts to distribute presents to their children are all now seen by many as normal events.
Whether the authorities in Uzbekistan share that view, however, is unlikely.