25 December 2012
Christian Indonesians Live In NJ Church's Sanctuary to Avoid Deportation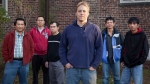 This Christmas marks Day 295 for a central New Jersey church playing host to a group of Indonesians living within its sanctuary.
Five Christian men remain at the church, hoping its brick walls and their own strong faith keep them from being deported. Three others from their families and congregation also immediately face being sent back.
Tonight, these men, with their wives and American-born children, will enjoy a Christmas Eve feast by dining on traditional dishes from their homeland. Exotic aromas will waft through the Reformed Church of Highland Park's neighborhood, as the men barbecue marinated chicken kebobs to be served with a cumin and garlic peanut sauce. As in years past, the women prepare their Dutch influenced Southeast Asian holiday delights including tinorangsa, pork wrapped in collard greens seasoned with lemongrass, ginger, chili peppers and other spices, or kue nastar, traditional cookies baked with the dough folded over diced pineapple.
These savory and sweet Indonesian foods strongly contrast with the congregants' bitter memories of their homeland.
All say that they and their loved ones have been persecuted in Indonesia, the world's most populous Muslim country, because of their religion and for some due to their Chinese ancestry.

In May 1998, Indonesian dictator Suharto resigned the presidency following violent and deadly student protests. In the chaos that followed the strongman's fall, mobs fought in the streets, entire neighborhoods burned and thousands died in this former Dutch colony. Gangs of radicalized Muslim extremists targeted Christians and other religious minorities throughout the country.
Yana Pangemanan, one of the eight people the Reformed Church is trying to protect, describes the hell her homeland had become when she fled it on May 13, 1998, "It was a bad situation because racism against Chinese Indonesians was horrible." She told ABC News, "Jakarta's Chinatown was burned. Chinese women were being raped. They didn't care if you were Christian or Muslim, as long as you were Chinese like me, they wanted to kill you. They were killing people in the street, burning cars."
Pangemanan narrowly escaped the attack in a dramatic ride to the airport. Her Muslim taxi driver kept telling mob members who stopped their car that she was his sister, hiding her Christianity. She left Indonesia without her 6-year-old son and mother whom she has never seen since.
Pangemanan and her husband Harry, who left Indonesia on a tourist visa almost five years before Suharto's resignation, are doing their best to raise their two American-born daughters. Harry has been living in the church since June, just before July 9, the day he was due for deportation.
Harry is now unable to work outside of the church's property. He keeps busy helping coordinate the church's many aid projects including hurricane relief. "I'm in charge of the aid dropped off for Sandy victims, about 50 van loads so far have been sent to help people on the Jersey Shore. We've raised close to $30,000 in donations."
Because he can't leave the church, this will be the first year Harry and Yana will not be in Troy, Ohio, to celebrate Christmas with his mother, a U.S. citizen. Yana says, "It's hard because his mother wants to see him. She's in bad health and can't come here. She does dialysis every other day, has diabetes and now pneumonia. Harry wants to be with her."