25 December 2012
Egypt tourism slump blamed on Islamist rule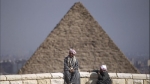 FOR millennia, the Sphinx guarding Cairo's famed pyramids has gazed upon the rise and fall of civilisations and the passage of countless visitors.



Now though, the ancient statue is looking on an absence of foreign tourists.

They have been chased away, the coterie of local souvenir hawkers and guides in its shadow say, by the political turmoil swirling over the country.

On Saturday, as polling stations nearby received voters for the second round of a referendum on an Islamist-backed constitution, the Giza Necropolis, as the site comprising the Great Sphynx and the pyramids is known, was all but empty.

"Currently there is no tourism in Egypt," grumbled Adel Anwar, the 32-year-old owner of a trinket stall.

"The new Islamist government has no experience in managing the state," he said. "The Islamists care only about their interests, not us. They forget about everyone else."

The complaint is a common one among workers dependent on Egypt's tourist industry, a key earner for the economy.

From Red Sea resorts, to Nile cruises, to the Giza pyramids - one of the Seven Wonders of the World - the industry is struggling.

Before the early 2011 revolution that ended the 30-year rule of Hosni Mubarak, tourism accounted for $US12.5 billion ($12 billion) of Egypt's $US510-billion ($490-billion) economy.

Last year, that income slumped 30 per cent to $US8.8 billion as fewer tourists came, those that did spent less, and Egypt's currency declined in value.

President Mohamed Morsi and his Muslim Brotherhood campaigned on a platform of bringing back stability, and stressed that - despite the fears of their detractors - they had no plans to impose Islamist rules banning alcohol or bikinis.

But the promised stability has not been forthcoming. Instead Egypt has been jostled for a month now by protests for and against Mr Morsi, and for and against the constitution he calls key to the country's future.

"We need stability to get tourists back. But the Islamist rule is provoking more instability and rage," said Sayed Abdel Tawab, a 33-year-old tour guide who has seen his daily earnings shrink from $32 per day to $11.

"I have no hope there will be stability," said Yasser Bahlol, 33, in his own souvenir stand as he idly surveyed what would previously have been a bustling, high-season flow of visitors. Only a few Egyptian visitors wandered past, spending little.

"The constitution doesn't mention tourism at all even though tourism is a major pillar of the economy," he said. He added he was now looking to start a business outside the tourism sector to earn money.

Only one person there, Ahmed El-Leby, 52, was found supporting the constitution and Mr Morsi's government.

"I'll vote yes for stability," he said. "The opposition isn't patriotic."

That assessment was not shared by Demrdash Ghoneim as he waited in vain for tourists to ride one of his 10 horses. "Extremist Islamists are keeping tourists away from Egypt," he said.

The referendum result will solve nothing, Ghoneim predicted. "The Muslim Brotherhood divided the country with the constitution."

Read more: http://www.news.com.au/travel/egypt-tourism-slump-blamed-...