24 December 2012
Fear keeps Egypt's Christians away from polls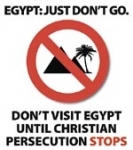 A campaign of intimidation by Islamists left most Christians in this southern Egyptian province too afraid to participate in last week's referendum on an Islamist-drafted constitution they deeply oppose, residents say. The disenfranchisement is hiking Christians' worries over their future under empowered Muslim conservatives.
Around a week before the vote, some 50,000 Islamists marched through the provincial capital, Assiut, chanting that Egypt will be "Islamic, Islamic, despite the Christians." At their head rode several bearded men on horseback with swords in scabbards on their hips, evoking images of early Muslims conquering Christian Egypt in the 7th Century.

They made sure to go through mainly Christian districts of the city, where residents, fearing attacks, shuttered down their stores and stayed in their homes, witnesses said.

The day of the voting itself on Saturday, Christian voting was minimal - as low as seven percent in some areas, according to church officials. Some of those who did try to head to polling stations in some villages were pelted by stones, forcing them to turn back without casting ballots, Christian activists and residents told The Associated Press this week.

The activists now see what happened in Assiut as a barometer for what Christians' status will be under a constitution that enshrines a greater role for Shariah, or Islamic law, in government and daily life. Even under the secular regime of autocrat Hosni Mubarak, Egypt's Christians complained of discrimination and government failure to protect them and their rights. They fear it will be worse with the Islamists who have dominated Egypt's political landscape since Mubarak's ouster in February 2011.
"When all issues become religious and all the talk is about championing Islam and its prophet, then, as a Christian, I am excluded from societal participation," said Shady Magdy Tobia, a Christian activist in Assiut. "If this does not change, things will only get worse for Christians."

But some of the Christians of Assiut are pushing back against the emboldened Islamists. In recent weeks, young Christians joined growing street protests to demand that the charter is shelved, casting aside decades of political apathy.

Assiut province is significant because it is home to one of Egypt's largest Christian communities - they make up about 35 percent of the population of 4.5 million, perhaps three times the nationwide percentage. At the same time, it is a major stronghold of Egypt's Islamists, who now dominate its local government. The province was the birthplace of some of the country's most radical Islamist groups and was the main battlefield of an insurgency by Muslim militants in the 1990s.

It was one of 10 provinces that voted in the first round of Egypt's referendum. Nationwide, around 56 percent voted in favor of the draft charter, according to preliminary results. Assiut had one of the strongest "yes" votes at more than 77 percent. It also had a turnout of only 28 percent - one of the lowest in a round marred by a low participation of only 32 percent nationwide.
The second and final round will held the coming Saturday in 17 provinces, including in Minya, which has the country's highest proportion of Christians, at 36 percent.

Rights groups reported attempts at suppression of the "no" vote in many parts of the country. But Christians say intimidation and suppression are more effective in this smaller, largely rural province.

"In Assiut, we face more danger than in Cairo," said businessman Emad Awny Ramzy, a key organizer of local protests against Islamist President Mohammed Mursi and his ruling Muslim Brotherhood. "Here they can easily identify, monitor and attack us."

A senior figure of the Gamaa Islamiya - which was once one of the main groups waging the Islamic militant insurgency in Assiut but has since renounced violence and is allied to Mursi's government - dismissed the Christians' allegations of intimidation in the province.

The claims are "just lies and rumors that surface every time we have an election," Assem Abdel-Magued said. The Brotherhood and officials in Mursi's government have similarly dismissed claims of violations around the country.

The draft constitution, finalized by Islamists on a Constituent Assembly despite a boycott by liberals and Christians, has polarized Egypt, bringing out huge rival street rallies by both camps in the past four weeks. Opponents of Mursi accuse him of ramming the document through and, more broadly, of imposing a Brotherhood domination of power. Mursi supporters, in turn, accuse his opponents of seeking to thwart a right to bring Islamic law they say they earned with election victories the past year.
Egypt's main Coptic Orthodox Church and smaller ones have taken an uncharacteristically assertive approach in the constitutional struggle. They withdrew their six members from the Constituent Assembly to protest Islamist domination of the process and later refused to send representatives to a "national dialogue" called for by Mursi.

The new Coptic pope, Tawadros II, enthroned last month, publicly called some of the charter's articles "disastrous."

In response, the Muslim Brotherhood - which usually keeps a moderate tone toward Christians - has turned toward more inflammatory rhetoric.

Senior Brotherhood figure Mohammed el-Beltagi in a newspaper interview this week depicted mass anti-Mursi rallies outside the presidential palace in Cairo this month as mainly made up of Christians, hinting at a Christian conspiracy against the president.

In a recent speech, Safwat Hegazi, a famous Islamist preacher linked to the Brotherhood, warned Christians against joining forces with former Mubarak regime figures to topple Mursi.

"I tell the church, yes, you are our brothers in Egypt, but there are red lines. Our red line is Mursi's legitimacy. Whoever dares splash it with water, we will splash him with blood," he said, using an Arabic saying.

In Assiut, Tobia, Ramzy and other Christian activists spoke of an atmosphere of intimidation ahead of the vote, including the large Islamist march.
They said threatening messages were sent on mobile phones and on social networking sites. During an opposition demonstration on Dec. 7 outside the offices of the Brotherhood's political party in Assiut, suspected Mursi supporters seized six protesters - five Muslims and one Christian - beating them and shaving the head of one.

With tension building up over the last four weeks, many Christian voters registered at polling centers located in predominantly Muslim areas did not vote, fearing violence, they said.

Those who made it to polling centers in districts with significant Christian populations were soon frustrated by the long lines or delays, which activists said was intentional. In some cases, they said, Islamists who had voted elsewhere then went to stand in lines in mainly Christian areas to make them longer, increase delays and prompt Christians to give up and leave.

Two Christian clerics said that outside the province's main cities, only about 12 percent of registered Christian voters left their homes on Saturday to vote and that no more than seven percent were able to cast their ballots. They based the figures on statistics gathered by members of the Coptic Church's youth group who monitored voting across the province. The two clerics spoke on condition of anonymity because of sensitivities over the church role in political issues.
In the Christian village of el-Aziyah, only 2,350 of the village's 12,100 registered voters cast ballots on Saturday, according to acting mayor Montaser Malek Yacoub.

Yacoub is among the growing number of Christians who are pushing back against persecution.
He has taken advantage of the tenuous security situation of the past two years and built two churches without permits and reclaimed a large area of state-owned desert that lies outside the village's boundaries toward a rock mountain. Under Mubarak's rule, Christians rarely received permits to build or renovate churches.

"Let me just tell you this: As far as I am concerned, this is our country and everyone else are guests," he said. But "we're ready to cooperate with anyone who shares Egypt with us."