18 November 2012
France: Muslim Student Attacks Professor Who Didn't Respect Islam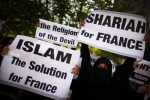 A Muslim, studying for the curiously-named "master monde musulman" [Muslim world master], at the University of Aix-Marseille attacked one of his teachers who, he felt, had failed to sufficiently respect Islam.
Ali, who lives in Aix, apparently launched himself into an intellectual war against any person who - as he perceived it, which raises questions in the eyes of the psychiatrists who examined him and who speak of a "psychologically rigid" young man - would abuse his Muslim brothers or his religion with words.

This was the case, in his view, with his teacher of Arabic grammar, "and this for a long time" he claims, in the dock. "During his lessons Monsieur Imbert allowed himself to insult Muslims," declares the defendant, "he engages in anti-Islam propaganda. It's unacceptable and besides I already made a report about it in September 2011".

Ali, after having remonstrated with his teacher several times, "avenged" himself physically on 14 March this year, kicking him on the chin, even though Frédéric Imbert was seated in the staff room.

The young man denies this violence completely, as well as the emails with an antisemitic aftertaste he is accused of sending. Judge Borresi read them."In response to an email from the masters director, Philippe Cassuto, banning you from setting foot in the classes, you wrote: 'I don't like unjustified instructions, especially not when they come from a pig [un porc]'. Then, several days later, also in response, you threatened: 'That's enough, or I'll do a Shoah" read the presiding judge.