15 September 2012
Muslim Brotherhood praises protests in Arabic, expresses relief that U.S. embassy staff unharmed in English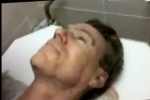 "War is deceit," said Muhammad.
"The Muslim Brotherhood will have a significant role to play in post-Mubarak Egypt. And that is good thing [sic]." -- Reza Aslan
"US Embassy Zings Egypt, Via Twitter: Psst, we can read Arabic, too," by John Johnson for Newser, September 14:
(Newser) – The US embassy in Cairo caught the ruling Muslim Brotherhood being two-faced as the protests were under way earlier this week, reports the Hill. The Egypt group's Arabic feed praised the protests, while its American feed expressed support for American staffers:

Brotherhood's tweet in Arabic: "Egyptians rise to defend the prophet."
Brotherhood's tweet in English: "We r relieved none of @USEmbassyCairo staff were harmed & hope US-Eg relations will sustain turbulence of Tuesday's events"
US response to the latter: "Thanks. By the way, have you checked out your own Arabic feeds? I hope you know we read those too."...