15 September 2012
Terrorists wanted to bomb Nairobi on Sunday: Police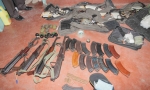 NAIROBI, Kenya, Sept 14 – Police in Nairobi on Friday said they had thwarted what would have been a deadly terror attack in the city after they recovered a cache of deadly terror weapons at a house in Eastleigh area.
Two suspects of Somali origin were arrested during the dawn security operation on Friday.
Police said they were part of a larger terror gang that planned to attack strategic buildings and major churches in Nairobi's Central Business District.
Nairobi Area deputy police boss Moses Ombati said the suspects planned to use the weapons to attack churches on Sunday.
"We have information that these suspects wanted to use these arms to harm innocent Kenyans during Sunday church services," a police officer who was involved in the operation said.
"We have now launched a massive operation to hunt these terrorists," the anti terrorism police officer who did not want to be named as he is not authorised to talk to the media said.
Two other suspects are at large and police are looking for them in the city.
"The weapons include six suicide bombs, 12 hand grenades, four AK47 rifles and 480 bullets," said Ombati.
"The suicide bombs had been mounted on vests attached with mobile phones with batteries, it seems they wanted to use it is an ignition to a series of explosion."
Anti terrorism police say the arsenals were found in the house following a tip off. According to the neighbours the suspects have been living in the seven storey building for the past two months.
Senior police officers were in the area Friday morning as further operations were carried out.
Police sources said they anticipated getting more weapons.