25 August 2012
Walsh won't apologize for saying 'radical Islamists' in U.S. want to kill Americans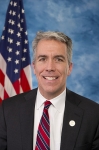 U.S. Rep. Joe Walsh remains steadfast in his conviction that "radical Islam" threatens the American way of life — a view the controversial congressman again expressed to an unhappy group of Muslim constituents Friday night.
Moon Khan, a Republican Party precinct committeeman in DuPage County and member of the York Township board of trustees, was one of about 80 people who attended an "intense" meeting with Walsh Friday night in the back yard of Khan's home in Lombard.
"It was a very, very intense meeting, and he did not change his mind," Khan later said of Walsh.
The meeting was called after Walsh alleged there is "a radical stream of Islam" in the U.S. that threatens the lives of Americans — including residents of Addison, Elgin and Elk Grove — at a townhall meeting in Elk Grove.
At the meeting Friday night, Khan said members of the local Muslim community "are young, American-born-and-raised individuals who share the American dream of a life of liberty, peace and the pursuit of happiness. They are your teachers, doctors, nurses, engineers, policemen and hard-working Americans that [are] productive members of society ..."
"Your recent speeches have created catalogues of issues for the Muslim community," Khan told Walsh, according to a transcript of his remarks.
"We want to ask the congressman why he is the only person who sees the ghost of radical Muslims everywhere. Why did not his colleague, Congressman Peter Roskam ... raise such alarm? We did not hear such warnings from U.S. Sen. Mark Kirk, not to mention the Democratic members of Congress. You are running the idea up the flag, and nobody is saluting it."
"We would also like to know if you found any radical Muslim in this gathering. If yes, please tell us, how did you detect that? Do you have a device like a metal detector that you rotate around and find Muslim radicals?"
Khan said he and others "are here to pick up the stones that have been thrown at us by the congressman, and turn them into the milestones of tolerance."
Khan later said it appeared Walsh during the meeting "was kind of trying to defend himself about what he has been saying in the media. He was trying to clarify that he is just talking about a tiny, tiny percentage" of people with the "radical Muslim" agenda, Khan said.
"But [Walsh] said that he did not want to apologize ... and just defended himself," Khan said. "He said he did not want to hurt people and he does not hate the Muslim community, and he was just raising the question."
Walsh spokeswoman Erin Rapp said Friday night she was sorry Khan felt the way he did.
"The congressman is glad he brought everyone together, but he has nothing to apologize for," Rapp said. "He implores all Muslim Americans to condemn radical Islam."
Walsh also issued a prepared statement, in which he said he "thought it was important for me to reach out and meet with concerned Muslim Americans in my district to discuss the threat that the radical strain of Islam poses to all of us ..."
"While this issue brings heated emotions from both sides, I was happy to hear their thoughts and concerns," Walsh said. "It affirmed my belief that the vast — vast — majority of American Muslims are peace-loving, patriotic citizens.
"However, there is still a radical strain of Islam within our country, Attorney General Eric Holder has said it, [Homeland Security Director] Janet Napolitano has said it, and I will not back down, and will continue to say that it is a major threat to our safety and security.
"Thus, after tonight's meeting, I stand by my original statement that while the overwhelming majority of Muslim Americans are as peace-loving as everyone else, there are radical Islamists right here in the United States trying to kill Americans and destroy this country."