25 August 2012
Leader Of NC Terror Cell Sentenced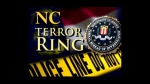 Raleigh, NC -- More than three years after their arrests, the Johnston County leader of a local terrorist cell and one of the cell members were sentenced Friday to federal prison for plotting to wage jihad on targets they saw as enemies of Islam
Daniel Patrick Boyd, who pleaded guilty about 18 months ago to conspiring to provide material support to terrorists and conspiring to murder, kidnap, maim and injure persons abroad. Since then, he has cooperated with the government to convict his followers, received an 18-year sentence.
Boyd was apologetic upon hearing his sentence, which also included a $3,000 fine, in the federal courtroom in New Bern.
"That was not me. That was something I allowed myself to become. Please, everyone, as best you can, forgive me," he said. The 42-year-old said he grew up in a home where his father often criticized the U.S., and he said the stress from family and health issues later allowed him to fall into extremism.
"That very American spirit inside of me pushed me to do what is correct," he said of his cooperation with prosecutors. "There is never a wrong time to do the right thing."
Anes Subasic, who was the last member of the group convicted when a jury found him guilty in June of the same charges, was sentenced to 30 years in prison. Subasic, 36, of Holly Springs, took the opposite tack, erupting in the courtroom when his sentence was announced.
The Bosnian native represented himself in the case, presented 200 pages of objections during a four-hour hearing and screamed at Senior U.S. District Judge Louise Flanagan and federal prosecutors. "I'm not guilty. I'm not a terrorist. I'm not Muslim. I can't repent for something I didn't do," he said, arguing that he was convicted by witnesses who lied and flimsy government evidence. "I have nothing to do with it. This is stupid and retarded," he said.
When prosecutors suggested a life sentence for Subasic, he yelled, "How about two life sentences?" Flanagan called Subasic a "bully" with a "grandiose sense of self-importance." In addition to his prison sentence, she fined him $1,000 and ordered him to undergo a mental health evaluation while behind bars.
Last September, Subasic also was found guilty of two counts of unlawful procurement of citizenship.
They were among eight men who federal investigators say raised money, stockpiled weapons and trained in preparation for jihadist attacks against American military and foreign targets. Seven of them were arrested in July 2009.
The eighth member of the group, Jude Kenan Mohammad, has never been arrested. Authorities said they believe he is in Pakistan, although some people have suggested he is dead.

Boyd's two sons, Dylan and Zakariya, pleaded guilty last summer and were sentenced to eight and nine years in prison, respectively. Hysen Sherifi, Mohammad Omar Aly Hassan and Ziyad Yaghi were convicted in a trial last fall. Sherifi, whose charges included plotting an attack on the Marine base in Quantico, Va., received a 45-year prison sentence, while Yaghi was sentenced to more than 31 years in prison and Hassan received a 15-year sentence.