27 July 2012
Top Italian Hotel Agrees Muslim Porter Won't Have to Take Orders from Woman Boss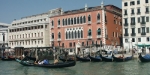 This is a good example of the insidious process of self-degradation that the Muslim presence inevitably triggers in any civilised country.
On this occasion it is the the famous Hotel Danieli in Venice that has demeaned itself. In the past, it has played host to such luminaries as Wagner, Alfred de Musset, George Sand and Goethe. More recently, its standards seem to have fallen.

A Muslim porter, of Egyptian origin, told his bosses that he wasn't going to take orders from a woman. The management initially invited him to respect Italian norms. But when he refused, and handed in his resignation, the management decided to appease his sensibilities "as he was well regarded by clients and other employees".