27 July 2012
'No compulsion in religion': 'One should be able to choose their religion'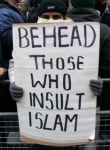 LAHORE: A Christian couple from Ichhra have been on the run for six years after facing threats from Muslim neighbours who would not let them rever to Christianity after embracing Islam.
Imran James and Nazia Masih had 'embraced' Islam on April 27, 2006, taking on the Muslim names Sameer Ali and Ayesha Bibi respectively but later reverted to Christianity. James explained to The Tribune in June that in converting they had only wanted to get married. He said, "[We] embraced Islam only to protect ourselves from any legal action [that my wife's family might have taken]. I was never serious about practicing."
The nikah took place on May 10 the same year. One of the formal witnesses was James' Muslim friend, Muhammad Atique – according to James, has been threatening them on learning that they have reverted to Christianity. James says that Atique had twice abducted, detained and tortured him. Once, he said, Atique had forced his way into their house and also "beaten" Nazia Masih. "[One] should have the freedom to choose the religion one wishes to follow," James said.
Trouble started early. James says after the nikah, he and his wife started living with his family. He recalls that several neighbours objected to their sharing crockery and cutlery with Christians – James' parents. James would tell them they had separate crockery and cutlery. But when the couple had two daughters, covering up became more difficult. Atique and some neighbours started demanding that James send his daughters to the mosque for Quran lessons. When he refused, things got so bad that the family had to leave their house in Chowk Baba Azam, Ichhra and shifted to a place near Bank Stop, Chungi Amar Sidhu. However, Atique and some others traced them to their new address and demanded that they convert back to Islam. The family had to leave that house too and rented a house in Youhanabad. They then went back to their Ichhra home for a while before shifting to an undisclosed location.
James' mother, Parveen James, had told The Express Tribune in June that she was "tired" [of all the running and hiding] and did not know what to do. The men, she said, had followed her husband – a sweeper at the Government Takia Dehri Shah School – and told him the entire family should convert to Islam.
Relatives of the family told The Express Tribune that once the family had gone into hiding, Atique had started harassing and threatening them with "dire consequences" if they did not tell him where the family had shifted to.
Rizwan Sajjad, a cousin of James, claimed on July 22 his father Sajjad Raza Patras had received several calls from Atique who asked him to reveal where James was "or be ready to face the consequences". Sajjad says he has filed an application with the CCPO's office, asking for protection for his family and the registration of an FIR against Atique. The application has been referred to the Model Town police station. "I have recorded my statement," he said, "but the police are yet to register an FIR."
The duty officer at the Model Town station confirmed that they had received the application, "We are investigating the complaint and will register an FIR after it is completed."
Danish Inayat, another cousin of James, has lodged an FIR at Nishtar Colony police station against two unidentified people for breaking into his house in Yohanabad on July 6 and trying to abduct him. When he raised an alarm, said Inayat, one of the men started firing. Inayat's sister, Aneeqa Irfan, and brother-in-law Irfan Masih were hit. He said the men wore masks.
His father, Inayat Masih, said they suspected the assailants were "the same people who forced my nephew and his wife to go underground."
Asked if he had indeed been harassing James and his family Atique was frank and blunt. "We have harassed the family, are harassing the family and will [continue] to harass them," he said. Atique described James' reversion to Christianity as "an insult" to Islam. He told The Tribune that he had been "trying to make them [James and Nazia Masih] mend their ways". "Though I am not a devout Muslim – I don't pray five times a day – it is my duty to bring them back to Islam," Atique said over the phone. "I have no extensive religious education [but even I know that] once a person embraces Islam, there is no way out for him," he said. Atique, however, denied attacking Inayat's family. He said, "If I were to attack James' relatives, I would not hide my face."
Human Liberation Commission of Pakistan chairman Aslam Parvaiz Sahotra, said Muslim scholars should issue an edict against such hardliners who are "bringing a bad name to Islam". He said no one could be forced to embrace Islam.
James said that anyone unhappy with to their reversion to Christianity should take a complaint to the authorities.
Lawyer Aftab Ahmad Bajwa told The Tribune that there was no provision in the Pakistan Penal Code dealing with a Muslim converting to another religion. Asked if there was any section in the PPC, which dealt with pretending to be a Muslim while one was not, he said 298-C could be applied to such instances. The said section reads: "Any person of the Qadiyani group or the Lahori group (who call themselves 'Ahmadis' or by any other name), who directly or indirectly, poses himself as a Muslim, or calls, or refers to, his faith as Islam… shall be punished with imprisonment of either description for a term which may extend to three years and shall also be liable to fine."
Ziaul Haq Naqshbandi of the Tehreek-i-Namoos-i-Risalat Mohammadi, said that if a Muslim changes his religion, he becomes a "murtad" and should be punished with death. He, however, said that state alone could take action against such people.