27 July 2012
Two held for converting woman to Christianity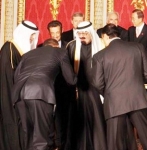 Saudi authorities arrested a local man and a Lebanese on charges of converting a Saudi woman to Christianity and smuggling her to Lebanon.
Newspapers said the two had been detained for a few days before they were released on bail pending their trial.
The two were accused of persuading the 28-year-old woman to quit Islam and convert to Christianity before smuggling her through Bahrain to Lebanon, where she has been staying at a church.
Sabq newspaper said the unnamed woman met the two at a company which she has joined recently in the eastern port of Khobar.
"The two were released but are barred from travelling out of the Kingdom pending their trial," the Arabic language daily said.