27 July 2012
Indonesia: Qur'an teacher gets five years for teaching jihad/martyrdom bomber how to make a bomb
Yadi was a teacher of the Qur'an. How did he come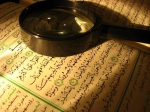 to misunderstand Islam so spectacularly as to urge warfare during classes on the Book of Peace, and to teach
people how to make bombs? It's a real puzzler for the learned analysts in Washington, but they will never be able to solve it because they're already forbidden to examine the texts and teachings of Islam to see if they could have had anything to do with inciting and inspiring a man like Yadi. Meanwhile, Yadis all over the world keep going to Qur'an classes, but don't be concerned about that: surely they won't allmisunderstand its peaceful teachings.
"Court Handed Down Five Years in Jail for Terrorists Instructors," from the Jakarta Globe, July 27 (thanks to David):
The West Jakarta Court sentenced two men to five years in prison in connection with the April 2011 suicide bombing of a police station in Cirebon, West Java.

Yadi Supriadi and Nanang Irawan were found guilty of teaching suicide bomber M. Syarif how to make a bomb. Yadi had previously urged Muslims to wage war against the nation's enemies of Islam during Koran recitation classes, telling listeners that they should make a bomb.

"Yadi has been convincingly proven to be guilty of committing [acts of] terrorism," presiding judge Haswandi said.

Both men have been convicted to teaching Syarif how to make a bomb.

On April 15, 2011, Syarif died in a suicide bombing of the Adz-Dzikra mosque inside the Cirebon police headquarters. Thirty-one people were injured in the blast, which killed Syarif.

The defense argued that Yadi only taught Syarif about hating so-called enemies of Islam, not how to make a bomb.

The judge rejected the claim, saying that there was evidence that Yadi told his followers how to make a bomb.

"How could we say that the [training] efforts are not related to terrorism," Haswandi said....
How indeed?