04 February 2012
Killing of Copts in Upper Egypt turns up heat on police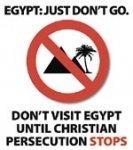 The drive-by shooting of two Christians in Naga Hammadi on Friday has inspired large-scale protests against the city's police forces for failing to protect citizens
The killing of two Copts in Naga Hammadi, Qena Governorate on Thursday failed to ignite sectarian strife in the Upper Egyptian city but has instead turned up the heat on the local police.
Police officers announced on Friday they had arrested those suspected of Thursday's shooting, saying the prime suspect is an upholsterer named Adel, and was assisted by four others. All five have been captured, police said.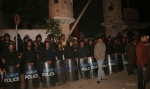 The Mercedes believed to have been used for the crime, carrying the licence plate number 392, was also impounded.
Initial investigations have shown the culprits intended to kidnap the victims and ransom them for around LE500,000. When the father put up a struggle, the assailants gunned them down, police said.
Cement trader Moawad Assad, and his 25-year-old son Assad, an engineer, were both killed on Thursday when unknown assailants opened fire on them from a Mercedes carrying Cairo plates. Moawad's second son, Paulos, survived the shootings.
Hundreds took part in the funeral service later in the day, while demonstrators staged a sit-in before Naga Hammadi police station to protest the failure of the city's law enforcement officers.
On Friday morning, around 3,000 Muslims and Copts rallied before the station, facing off against a heavy security presence. Demonstrators blame the police for "easing off" their duties, and call for quick investigation into the shooting.
The Qena Governorate has a history of sectarian violence, especially against Coptic Christians.
http://english.ahram.org.