04 February 2012
bOKO HARAM: Why Christians are fleeing damaturu, Postiskum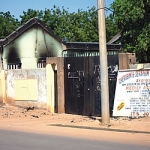 CHRISTIANS have been leaving Yobe State in drove, and this might not be unconnected with the incessant activities of the dreaded Boko Haram sect.
Mallam Musa Audu, a resident of Pompomari ward in Damaturu, the Yobe State capital told Sunday Tribune that at about 4:15 am on Monday, 16th January 2012; some young men numbering three and armed with AK47 rifles forced themselves into his house. According to him, they did not kill anyone but asked them to leave town first thing in the morning, warning that they were going to come back and if they met him or any of his family members, they would kill them. He said fear gripped them as most of them thought that was their end, but somehow the young men only warned and left.
He further told Sunday Tribune on Monday in Damaturu that he stayed behind to get the truck that would convey some of his properties as according to him; he did not think that any of his family would like to leave in a state where their lives could be terminated at any point in time.
"Taraba is at least a Christian State even though I am not a citizen, I hope to find peace and grow my children in an environment where I would be appreciated. You know sometimes you have to take a painful decision in exchange for your life. I am a civil servant, so is my wife; but when you see death and you were served and warned to leave; I think only a fool can think of staying back. Immediately these young men left, I called my elder sister who is married in Taraba and she asked us to come over, my family as I told you are already on their way and I will join them to start life anew." Musa Audu explained.
Driving through the street at Pompomari ward of Damaturu, one would see the apparent desertion that has hit the street and several other environments that were mostly occupied by Christians. Sunday Tribune met some people who informed that some young men believed to be Christians were gunned down by suspected members of the Boko Haram sect at about 8:00 a.m. The Police also confirmed the killing of three Chadian nationals in Damaturu town by gunmen suspected to be members of Boko Haram.
Speaking on the issue of Christians being subjects of attack in the state, the state's chairman of the Christians Association of Nigeria (CAN), Reverend Garba Idi, told Sunday Tribune in an interview that "two of the murdered persons were Christians, which brings to 14 the total number of Christians killed so far in Damaturu and Potiskum towns this year."
A resident of Jerusalem ward in Damaturu, Mr. Marcus Duniya, who claimed to have been living in Yobe State for over 30 years, told Sunday Tribune that the security situation in the state is a thing of concern because people were fleeing owing to the threats being issued against Christians. According to him, many churches have closed as both indigenes and non-indigenes have fled to Nassarawa, Taraba, Jos and surrounding villages because they believed that they are no longer secured in Damaturu.
He said: "Look at the streets, everywhere is empty. I know that over 200 people have fled Damaturu. In my church; the pastor left without even informing us, we learnt that he fled to Jos and we confirmed it. We are still communicating with him, and from what he is saying, it is like he may not be coming back to the state."
Speaking on the crisis since it began on 4th November 2011, Mr. Duniya said, "after the 4th November incident, they attacked Geidam town where they burnt five churches and many shops belonging to Christians. However, the good thing was that there was no loss of life. 14 Churches were burnt in Damaturu, five vehicles were burnt in Gadaka ECWA Church at Gadaka village, in Potiskum, which used to have the largest concentration of Christians in Yobe as well as the number of churches. You will recall that recently two churches were burnt while 12 shops in front of St. Peter's Anglican Church were burnt by some Muslim youths. Also, one upstairs belong to an indigene of Potiskum, a medical doctor living in Ghana was burnt simply because the man is a Christian even though he is not living in Potiskum and was not even in Nigeria when his property was attacked. Three people were killed last week in Anguwar Dorowa after the killing of four Igbos at Texaco Filling Station."
He said people are still fleeing the town because there were rumours that they (Boko Haram) threatened to go from house to house to search for and kill Christians and non-indigenes.
Mr. Marcus explained that only two churches; ECWA Hausa and ECWA Goodnews Church held services on Sunday out of over 30 churches in Damaturu. According to him, in Potiskum, they were made to understand that only one church out of over 40 churches had its usual Sunday service.
He said 21 churches were burnt earlier, and there was no assurance of peace from government because they have done only little and as such, nobody believed they could do anything in the future. "In fact they have not called on the Christian community in the state to commiserate with them. The governor has not visited any church or Christian community or non-indigene since the beginning of the crises, a situation that further made many people to be scared of remaining in the state."
However, while speaking during the launching of the distribution of the Keke NAPEP, which was tagged "Bra-Bra Mungode," by the state governor, Alhaji Ibrahim Geidam condemned the killings and attacks in the state, saying no one has the right to take a life in the name of religion.
He informed the gathering that it was not in the interest of government to inflict suffering on the citizens by announcing the ban on the use of motor cycle, popularly called 'Achaba', but that government took this painful decision in the interest of peace and to safeguard the lives and properties of the citizenry, who are always attacked by fanatics using motorcycles to gun down people.
He however, said that while some people hold the view that government is rather relaxed on the issue of insecurity in the state; he wanted to assure them that government feared no individual or group but that government has to carefully study the modus operandi of the so-called sect in the state and is acting to ensure the safety of lives and properties of its citizens.
He said sometimes he wondered whether God has allowed such calamity to befall the country as a result of bad leadership, and therefore urged leaders from ward levels to the state government levels to submit themselves to God in prayers so that God would deliver the state and bring back the peace it once enjoyed.
What is however apparent and incontestable is that the mass exodus of Christians from Yobe State has been on the high side and something must be done in time to put the trend in check.
http://www.tribune.com.