01 November 2011
Imam who led alternative Friday prayers detained with fake banknotes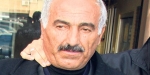 An imam who led alternative Friday prayers as part of a pro-Kurdish Peace and Democracy Party (BDP) civil disobedience campaign a few months ago was caught in Bolu with fake banknotes by the police department on Thursday
the İstanbul Police Department's Anti-smuggling and Organized Crime Bureau received a notification about a counterfeiting lead, warning them that fake banknotes made in İstanbul's Bağcılar district would be sent to Bitlis. After receiving the notification, the police department started an investigation and carried out an operation in the neighborhood where the fake money was made. The police found out that a minibus carrying the money to Bitlis had just departed.
The İstanbul Police Department contacted the Bolu Police Department's Anti-smuggling and Organized Crime Bureau to intersect the minibus on the road. The Bolu Police Department stopped the minibus, finding TL 70,000 in fake banknotes in the luggage. The police detained Cindi Beyhan, who was driving the minibus, and took him to the police station, where he confessed in an interrogation that the fake banknotes belonged to him. The police revealed that he was one of the imams who led alternative Friday prayers as part of the BDP's civil disobedience campaign.
The BDP earlier launched a civil disobedience campaign against the government in the east. Refusing to be led in Friday prayers by state imams, the people started to perform Friday prayers in the streets, rather than in state mosques, with ordinary people whose religious education for leading such religious rituals was questionable. Beyhan was referred to the Bakırköy Courthouse in İstanbul after his interrogation at the police station.
http://www.todayszaman.com/news-261269-imam-who-led-alternative-friday-prayers-detained-with-fake-banknotes.html