01 November 2011
Top Muslim Declares All Christians 'Infidels'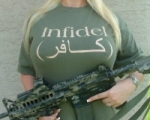 To what extent was Egypt's Maspero massacre, wherein the military literally mowed down Christian Copts protesting the ongoing destruction of their churches, a product of anti-Christian sentiment?
A video of Egypt's grand mufti, Sheikh Ali Gomaa (or Gom'a), which began circulating weeks before the massacre, helps elucidate. While holding that Muslims may coexist with Christians (who, as dhimmis, have rights), Gomaa categorized Christians as kuffar — "infidels" — a word that connotes "enemies," "evil-doers," and every bad thing to Muslim ears.
After quoting Quran 5:17, "Infidels are those who declare God is the Christ, [Jesus] son of Mary," he expounded by saying any association between a human and God (in Arabic, shirk) is the greatest sin: "Whoever thinks the Christ is God, or the Son of God, not symbolically — for we are all sons of God — but attributively, has rejected the faith which God requires for salvation," thereby becoming an infidel.
Gomaa then offered a hypothetical dialogue between Christians and Muslims to illustrate Islam's proper position:
Christians: You have the wrong idea about us; we don't worship the Christ.
Muslims: Okay, fine; we were under the wrong impression — but, by the way: "Infidels are those who declare God is the Christ, son of Mary."
Christians: But these are philosophical matters that we are unable to explain.
Muslims: Okay, fine; God is one—but, by the way: "Infidels are those who declare God is the Christ, son of Mary."
As a graduate of and long-time professor at Al Azhar university and grand mufti of Egypt (a position second in authority only to Sheikh Al Azhar), Ali Gomaa​ represents mainstream Islam's — not "radical Islam's" or "Islamism's" — position concerning the "other," in this case, Christians. Regardless, many in the West hail him as a "moderate" — such as this U.S. News article titled "Finding the Voices of Moderate Islam"; Lawrence Wright describes him as "a highly promoted champion of moderate Islam":
He is the kind of cleric the West longs for, because of his assurances that there is no conflict with democratic rule and no need for theocracy. Gomaa has also become an advocate for Muslim women, who he says should have equal standing with men.
How does one reconcile such sunny characterizations with reality? The fact is, whenever top Muslim authorities like Gomaa say something that can be made to conform to Western ideals, Westerners jump on it (while of course ignoring their more "extreme" positions). It is the same with Gomaa's alma mater, Al Azhar, the "chief center of Islamic and Arabic learning in the world."
Continue reading page: 1 2
http://frontpagemag.com