01 November 2011
Egyptian Sheikh issues fatwa prohibiting votes for Christian, secular candidates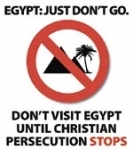 CARIO: Mohammad Amer, a Salafi Sheikh in Damanhur, Egypt, issued a fatwa prohibiting votes for any Christian, secular or liberal candidate, as well as any Muslim candidate who does not pray daily or call for the implementation of Shariah law.
The fatwa also prohibited voting for any former member of the dissolved National Democratic Party (NDP), associated with the regime of deposed President Hosni Mubarak, with the exception of a few "honorable" candidates.
Amer claimed that voting for any such candidate would constitute a grave sin.
"I want the voters to vote in favor of the candidates of the Islamic movements and to oppose those who want to separate religion from the state. There is nothing called liberalism in Islam and there is no absolute freedom in our religion," he said to London's Asharq al-Awsat newspaper, defending the move.
Amer is the head of the Giza Governorate branch of al-Sunna al-Mohamadeya. He came under fire earlier this year when he released a fatwa claiming that Egyptian political figure Mohamed ElBaradei could be killed for calling for the boycott of Egyptian elections and civil disobedience.
"ElBaradei incites civil unrest," said the controversial fatwa. "For this, the rulers, represented by the Government and President Hosni Mubarak, have the right to kill him if he does not stop."
Human rights organizations quickly condemned the fatwa, noting that the same grounds were used in legitimizing the 1981 assassination of Egyptian President Anwar el-Sadat.
http://bikyamasr.com/