30 September 2011
Norway: Muslims Charged With Forced Marriage of 16 Year Old Girl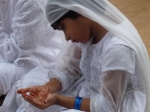 Four men have been charged with forcibly marrying a 16 year old girl to a 23 year old man. The marriage was carried out March 2009 in the Oslo suburb of Skedsmo. The girl's family gave their blessings to the marriage.
The case against the men – aged 23, 44, 47 and 49 – is based on the girl's statement. Dagbladet has learned that the four Iraqi defendants denied the charges.
According to prosecutor Olav Helge Thue the girl was forced to answer questions as part of a Muslim forced marriage ceremony. An imam, who has not been charged, conducted the ceremony.
Thue says that the girl was coerced using her young age and psychological ties to her family.
The girl told the police that she eventually made it clear she wanted out of the marriage. According to the indictment, she then faced serious threats from two of the defendants. The 23 and 47 year olds forced her to remain in the forced marriage by threatening her she'll be excommunicated from her family, sent back to Iraq against her will, and with threats of murder.
This despite the fact that she asked for help to leave it.
This poor girl is now at grave risk of being killed unless she can escape her community. Yet this nightmare forced marriage scenario is not from some benighted Islamic republic, but takes place in the present day, in what is supposedly one of the world's most advanced societies.
And it's no isolated incident.
All over Europe and the rest of the developed world, the importation of Muslim immigrants is translating into pockets of mediaeval Shariah law being transplanted into democratic, secular states, supposedly founded on tolerance, freedom and the rights of the individual. Forced marriage is rife.
But what rights does this girl have? The answer is, because of the mindbending logic of leftist multiculturalism (which promotes not integration, but 'hands-off' ghettoisation) and mass immigration from the Muslim World; exactly the same as she would have had in Baghdad or Fallujah. Which isn't many, to say the least.
The Multikulti Time Machine – driving Norway (and the rest of the developed world) back to the seventh century – one victim at a time.
[Source: Dagbladet (Norwegian)]