30 September 2011
A Muslim President, After All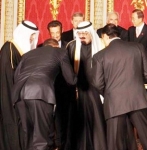 Hispanics, blacks and others among President Obama's base may be abandoning him, but Muslims are holding fast. Apparently, theirs is a special bond born of shared interests.
When Barack Hussein Obama first stepped into office in January 2009, he had 92% approval among blacks, 75% approval among Hispanics and 58% approval among whites, according to Gallup.
Since then, his monthly approval has dropped eight points among blacks, 27 points among Hispanics and 25 points among whites.
Blacks are frustrated with Obama's failure to create jobs in a recession that has hit African-Americans hardest. Discord is so bad that even the Congressional Black Caucus is taking jabs at the first black president.
Hispanics, meanwhile, are miffed at Obama's failure to ram amnesty for illegal immigrants through Congress.
Polls show Obama also has lost ground with independents, while young people have cooled off on him.
He is losing much of his 2008 base of voters with one notable exception: Muslim-Americans. They remain exceedingly loyal to the president. In fact, their enthusiasm for Obama has swelled.
Last month, Pew Research Center released a survey of U.S. Muslims that was almost universally overlooked. It found that Muslims overwhelmingly approve of the way Obama is handling his job as president. Fully three-quarters (76%) favor him, compared with just 46% of the general public.
President Bush, in contrast, garnered a lowly 15% approval rating among Muslim-Americans. "Muslim-Americans clearly see a friend in Obama," Pew said in its report.
Obama came into office pledging to improve relations with the Muslim world, and he's more than delivered on that promise. Almost two-thirds of U.S. Muslims say Obama is generally friendly toward them, Pew found. Just 4% see him as unfriendly.
And many see him as one of their own. One in 10 say they think the president is a Muslim, while a third say they don't know or refused to answer.
Nonstop pandering has also made Obama popular in the Muslim community.
He's appointed a record number of Muslims to his administration — including at least three radical Muslim Brotherhood agents to White House jobs, according to Muslim reformer Tarek Fatah. And he's killed Justice Department probes of Muslim Brotherhood front groups at home, while paving the way for Brotherhood-run theocracies abroad.
Muslims also are in Obama's corner because he's vowed to provide more "social services" for them — including "jobs, education, health care and civil rights" — as part of his new PC counterterror program.
This is music to their ears. According to the new Pew poll, Muslims love big government as much as Obama. The vast majority say they'd rather have a bigger government with more services than a smaller one with fewer services.
In fact, 68% say they'd prefer an even larger and more activist government than what Obama has engineered.
Obama's core constituency, in the end, may be Muslims. They seem to be singing from the same hymnal.
http://www.investors.com/