30 September 2011
Former council leader's mosque offer sparks anger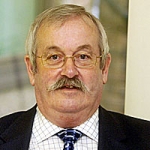 Furious residents are accusing former council leader Fred Brown of trying to seek "petty revenge" after being voted out in the last election.
People in Littleport say they are "sickened" that Mr Brown, former leader of East Cambridgeshire District Council, wants to create a miniature mosque in the village.
Mr Brown, who lives in Littleport and owns several properties in the village, says he has a property which would be "ideal" for Ely Muslims to convert into a prayer centre.
Mr Brown, who lost his seat during the elections in May, said he wants to meet up with the group.
But David Leuty, of The Holmes, Littleport, said: "The only reason he is even remotely considering helping these people is to stick two fingers up to everyone who was determined not to see him re-elected. I hope the Ely Muslims have enough sense to ignore his help. I feel sickened by it."
Janice Hunter, of Main Street, said: "We don't want a mosque here in Littleport, the same as the residents of Ely don't. Fred Brown is simply trying to seek petty revenge on us all."
Speaking to the Weekly News, Mr Brown says he wants to show the Muslims around the building he has in mind.
He said: "I own a property in central Littleport which would be ideal for them to use. It's a large building, which I understand is what they are looking for."
It was earlier this year that the Ely Muslims, who currently meet each week at the Paradise Centre in Ely, announced that they wanted to build a miniature mosque in the city.
The management committee of the Paradise Centre had told the group that they would lease them an area of their sports fields, close to the junction with New Barns Road and Deacons Lane, to build the facility if they gained planning permission.
However, the discussions have been put on hold following uproar from many locals, who insist the Muslims should not be allowed to build a new prayer centre.
Since then the debate has intensified and the English Defence League (EDL) has even threatened to protest in the city if the plans come into fruition.
The Ely Muslims have said all along that they need a bigger space to meet and worship due to the increase in members.
Nobody from the Ely Muslims was available to comment.
http://www.cambridge-news.co.uk/