09 August 2011
PA Official Calls for 'Friday Intifadas' During Ramadan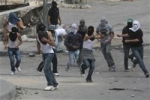 Yasser Arafat's former advisor calls on PA Arabs to riot on Fridays during Ramadan to protest Israel's "racism."
Bassam Abu Sharif, a former advisor to Yasser Arafat and a member of the PLO, called Tuesday on all Arab Muslims and Christians in and around the world to turn Fridays during the month of Ramadan into days of intifada of the millions against what he termed "the Israeli occupation" and the "Judaizing" of Jerusalem, the Palestinian Authority-based Ma'an news agency reported.
According to the report, Abu Sharif also called on Arabs to demand that the United States and Europe implement UN Resolution 242 and recognize an independent Palestinian state whose capital is Jerusalem.
Abu Sharif claimed that all Israeli governments have opposed the establishment of a Palestinian state and have wanted to expel the Arabs from the region. He added that his call for the 'Friday Intifadas' during Ramadan was made in order to protect the 'Arabness' of Jerusalem and Palestine.
Abu Sharif also Abu Sharif said that the Arab anger could turn into worldwide anger, causing Europe and the United States to experience large shocks because of their commitment to what he termed Israel's "popular racism."
Abu Sharif is the same PA official who in 2009 accused Israel of being responsible for the "assassination" of Yasser Arafat, who died in 2004.
It has been confirmed by Arafat's doctor himself that the former PA Chairman died of AIDS.
http://www.israelnationalnews.com