09 August 2011
'Fatwa' sheikh with links to Irish Muslims is refused visa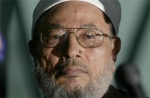 A CONTROVERSIAL religious leader with close links to Ireland's largest Muslim organisation has been banned from entering the country, the Irish Independent has learned.
The Irish Naturalisation and Immigration Service refused to approve an entry visa for Sheikh Yusuf al-Qaradawi, an Egyptian cleric who has defended suicide bombing and advocated the death penalty for homosexuals.
Sheikh al-Qaradawi (84) is head of the European Council of Fatwa and Research (ECFR), a private Islamic foundation whose headquarters is in the Islamic Cultural Centre of Ireland (ICCI) in Clonskeagh, Dublin.
Immigration officials are understood to have blocked his entry to the country after Mr Al-Qaradawi described suicide-bombing attacks on Israelis as "martyrdom in the name of God".
The Irish Independent has learnt the elderly religious leader was denied a visa when he last tried to enter the country on ECFR business.
The Irish ban follows similar ones in the US and UK.
Mr Al-Qaradawi had his US visa revoked in 1999 and was also refused entry to the UK three years ago.
He now spends most of his time in Qatar, where he is a regular guest on satellite broadcaster Al Jazeera.
Despite Mr Al-Qaradawi's controversial remarks, the ICCI, the largest Muslim organisation in the country, has refused to criticise him. Its chief executive, Dr Nooh al-Kaddo, confirmed to the Irish Independent that Mr Al-Qaradawi's foundation had its headquarters at the ICCI. He described the sheikh as "widely respected" and a "learned scholar".
"His views are representative of Islamic teachings and are not assumed to be a violation of same," said Dr al-Kaddo.
Mr Al-Qaradawi is viewed as a complex character in the Muslim world. Although accused of anti-Semitism and homophobia, he has expressed some moderate views, condemning the 9/11 terror attacks and supporting Muslim integration in Western societies.
The Irish Independent has learnt that immigration officials have been concerned about him for some time and have blocked his entry to Ireland for the past three years.
A visa application made by Mr Al-Qaradawi in June 2008 was refused. Since then he has been "red flagged". This means he would be arrested and immediately deported if he turned up at an Irish port of entry.
The decision is believed to have been made after consultation with other governments who imposed similar bans.
No official reason was given for the red flagging and it is unclear if other religious figures have been the subject of similar bans.
A spokeswoman for the Department of Justice said it could not comment on specific cases.
Violence
When Mr Al-Qaradawi was banned from the UK in 2008, the Home Office there said he was refused entry because of fears his views "could foster inter-community violence".
The ICCI's defence of Mr Al-Qaradawi is likely to give rise to criticism in some quarters of the Irish Muslim community who have previously accused the body's leadership of not being tough on extremism.
However, Dr Al-Kaddo said he rejected such criticism.
"The ICCI is aware that on occasion there are claims it does not take a sufficiently strong stance against global extremism," he said.
"The ICCI has, on all occasions of extreme violence carried out against innocents, condemned it, especially when the perpetrators claim it to be in the name of Islam."
Dr Al-Kaddo also disputed claims, made in leaked US embassy cables, that ICCI members celebrated the kidnapping of Irish-born aid worker Margaret Hassan in 2004.
"We cannot be held accountable by our community or others for the actions of a few who see matters in a different light," he said.
"We are not aware that these celebrations took place. However, we do not condone it if they did. If we had knowledge of such celebrations on our premises we would have endeavoured to address the matter immediately and stopped such atrocious behaviour."
Dr Al-Kaddo also denied other US embassy-cable claims that children of ICCI members did not turn up for school and were visibly sad following the death of Abu Musab al-Zarqawi, the leader of al-Qa'ida in Iraq, in 2006.
"We did not uncover any evidence that these events took place," he said.
"However, we cannot guarantee that all families are exempt from harsh viewpoints and we cannot prevent such actions.
"But we can advise and preach with the hope of ascertaining a balanced view with those who listen."
- Shane Phelan Investigations Editor
Irish Independent