09 August 2011
Muslims Attack Christian Village in Egypt -- 1 Murdered, Homes Looted and Torched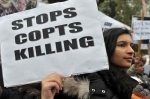 AINA) -- Muslims attacked Christians in the village of Nazlet Faragallah, in the southern Egyptian Minya province, on Sunday evening. The attack continued until the early hours of Monday morning, August 8. One Copt was murdered
and homes were looted and torched when Muslims from Nazlet Faragallah together with Muslims from four neighboring villages started their violence at approximately 8 PM, after breaking their Ramadan fast.
According to eyewitnesses, thousands of Muslims entered the village from all sides, firing automatic weapons (mostly in the air), looting and throwing Molotov Cocktails at several homes. "They even destroyed our irrigation pumps," said one witness.
The first attack was on the house of Father Youanes, pastor of St. George Church, which lies at the head of the village. He was beaten and his home was looted and torched.
Maher Nassif Tobias (50), an employee at the local council, was murdered in his home. He was found by his son. His house was completely looted, including his livestock.
Security forces arrived 4 hours after the attack began and there were too few of them. "They only had batons in their hands, and were unable to control the situation," said a Coptic village resident. "Our village is surrounded by corn fields. The Muslims came into the village to loot and quickly disappeared in the fields, the police could not follow them. They were coming from all directions at the same time."
Nazlet Faragallah has 8000 inhabitants, 80% are Copts and 20% Muslims.
The events were preceded on Saturday by an altercation caused by Muslims harassing Christian girls as they came out of a church service in the late afternoon. Stones were hurled by Muslims at the church, breaking five windows. A "reconciliation" meeting took place. Some 200 Copts staged a sit-in in front of St. George's Church on Sunday afternoon to protest against Muslim attack on the church.
In a statement tonight, the security authorities in Minya said the Muslim attack on Nazlet Faragallah was caused by a group of Copts, headed by Haddar Ishaq, firing at Muslims as they came out of the mosque on Sunday afternoon. Copts in the village denied this claim.
Three Muslims were arrested yesterday and three Copts today. None of the Copts were involved in any incident, and one of them had broken his leg two weeks before. "Security is doing its balancing act again," said one of the villagers. "They will use these Copts, who were arrested at random, to bargain for their freedom in exchange for village Copts giving up their rights during the 'reconciliation' meeting."
It was reported that Muslim women walked the streets today, warning that after breaking the Ramadan fast the men would come to finish the Christians off, but this did not happen, as security was present in large numbers in the village and preparations were being made for another "reconciliation" meeting to take place on August 9.
By Mary Abdelmassih