01 August 2011
RAMADAN: 71% FRENCH MUSLIMS OBSERVE RULES, NUMBER RISING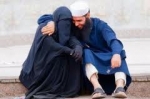 (ANSAmed) - PARIS, AUGUST 1 - The number of Muslims in France who respect the Ramadan fast is growing, young people most of all. Ramadan started today at dawn. A survey carried out by Ifop and
published by La Croix daily suggests that 71% of them stay off food all day during the holy month. This figure is 10 points higher than it was in 1989, the year in which the first poll on the question was carried out in France.

Based on the Ifop survey, 9% go without food for a few days only, and 20% of Muslims in France do not fast at all. The same survey shows that the Ramadan is strictly observed by 73% of men and 68% of women. The most diligent group consists of people between the age of 18 and 24 and people over the age of 55 (73% participation in both cases). The number of people who go to mosque for Friday prayer is also rising: 25% in 2011 against 16% in 1989. France counts around 2,000 mosques and Muslim places ofworship, but most visitors are men: in fact 84% of women say they never go to mosque on Friday.

This year the proportion of Muslims who consider themselves to be believers and observant (41%) is larger than those who say they are only believers (34%).

France, where the Islam is the second religion after Catholicism, hosts the largest Muslim community in Europe.

According to Ifop 5.8% of the French population are Muslims, 3.5 million in total, though often higher numbers are mentioned, between 5 and 6 million. (ANSAmed).