01 August 2011
Italy: Thirty-five injured when migrant protest turns into riot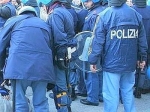 (AKI) - Around 35 people were injured Monday in southern Italy when people held in a migrant detention camp near the city of Bar staged a protest that turned into a riot.
Some 100 migrants demonstrated to get their passports returned with visas to stay in Italy by blocking a rail line and state road. The protest turned violent when riot police were sent in to break up the demonstration and the migrants pelted them with stones.
Other detainees armed with iron rods set fire to furniture at the camp in the Puglia region.Twenty police and 15 migrants were injured in the incident.Separately, the bodies of 25 migrants were found Sunday in the hold of a vessel that set sail from Libya for the Italian island of Lampedusa.More than 40,000 illegal immigrants have arrived on the island since popular uprisings broke out in North Africa early this year. Thousands of the arrivals have been transferred to detention camps in Sicily and on the Italian mainland.