01 August 2011
US Terrorist Admits He Also Shot at Rabbi's Home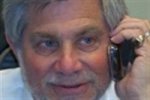 Convicted American terrorist who killed a U.S. army soldier two years ago has admitted he also fired 10 bullets at a rabbi's home in Arkansa
convicted Muslim American terrorist who killed a U.S. army soldier two years ago has admitted he also fired ten bullets at a rabbi's home in Arkansas, according to a letter obtained by the Associated Press under the Freedom of Information Act.
Abdulhakim Muhammad said he shot at the home of Little Rock Reform leader Eugene (Gene) Levy before he carried out his deadly attack on army soldiers in June 2009, killing one and wounding a second. An Arkansas court this week sentenced him to a lifetime term in prison plus 180 years in prison for the use of a firearm in the crimes. Additional charges may be filed by federal officials if they decide he was an enemy of the country.
Muhammad admitted in a letter dated November 2009 that he planned to attack Jewish organizations across the United States as well as army recruitment centers. He had bought rifles, a revolver, ammunition and materials to make firebombs.
Levy was not at home when the shots were fired, and his wife said she did not even know about the gunfire until FBI agents arrived at the home to investigate.
In the hand-written letter, Muhammad said that after he fired at Levy's home, he drove to Memphis and Nashville in Tennessee with the intent of shooting at a Jewish community center, but he canceled his plan because "there were too many children around."
He continued driving until he reached a recruitment center in Kentucky, but it was closed, and he returned to Little Rock and then drove again to Nashville, where he unsuccessfully firebombed a rabbi's home. The Molotov cocktail blew out before landing.
Muhammad finally carried out his terrorist attack when he returned to Little Rock, where he shot at two uninformed soldiers outside a recruitment center.
He justified the attack because he was angry over alleged atrocities by U.S. soldiers in the Middle East.
Muhammad is a Muslim convert who traveled to Yemen on the 6th anniversary of the 9/11 attacks because he wanted to become a terrorist. He reportedly stayed there for 16 months and admitted to meeting with representatives of Al-Qaeda.
He was jailed for three months while trying to cross into Somalia with fake identification.
http://www.israelnationalnews.com