31 July 2011
Man accused of Facebook bomb threat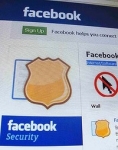 A CLEANING business owner used Facebook to threaten to ''kill all Christians and Jews'' and bomb Sydney, police allege



Khaled Zakaria, 30, faced Parramatta Bail Court yesterday charged with one count of using a mobile phone to menace or harass and two counts of making hoax threats using a mobile phone.
In documents tendered to the court, police said Mr Zakaria, of Greenacre, threatened to bomb intelligence agency ASIO, stab officers at Goulburn's super-max jail and ''get'' officers at Bankstown police station under the Facebook profiles Kay Zee, Khaled Ibn-Al Walid and Khaled Ibn-Alwalie.
Advertisement: Story continues below
Police alleged Mr Zakaria posted threatening comments on the Ban the Burka and Sharia for Australia Facebook pages, including: ''There's going to be a big bang in the City of Sydney on 30th of July, 2011. Watch out. Bang Bang.''
Following Mr Zakaria's arrest on Friday by officers from the joint counter-terrorism team and the Middle Eastern Organised Crime Squad, police searched his house and car and seized two mobile phones and other related items.
Mr Zakaria's lawyer, Derek Druitt, told the court his client may be a victim of mistaken identity because he employs three people, one of whom has a similar name and initials. He said the ''hoax'' messages were posted using a work phone used by everyone at the company.
Magistrate George Zdenkowski refused bail, saying the protection of the community is at stake.
Mr Zakaria is expected to appear at Downing Centre Local Court on Wednesday.


Read more: http://www.smh.com.au/technology/technology-news/man-accu...