31 July 2011
China: Unrest in Kashgar, Xinjiang, leaves 15 dead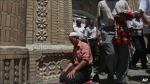 Weekend unrest in Kashgar, in China's western Xinjiang region, has left at least 15 people dead, state media say.
The violence began on Saturday when two men killed a truck driver, then drove his lorry into pedestrians and attacked them with knives, killing six. One of the attackers also died.
On Sunday an explosion killed three people and police shot dead "four suspects", the Xinhua agency said.
Xinjiang has a Muslim Uighur minority and has seen serious ethnic tension.
The BBC's Martin Patience in Beijing says there are reports of further clashes in the city on Sunday.
Migration dispute
A local official was quoted as saying that both of Saturday's attackers were Uighurs.
According to tianshannet.com, a Xinjiang government-run website, the assailants hijacked a truck waiting at traffic lights, stabbing the driver to death before ploughing the vehicle into bystanders.
They then got out of the vehicle and started attacking people at random, the report said.
It said the crowd then turned on the men, killing one of them. The second man was captured.
State-run news agency Xinhua said the attack had been preceded by two explosions.
Twenty-eight people were reported to have been taken to hospital.
On Sunday, Xinhua reported another explosion, which it said killed three people, including a police officer, and injured three others.
It also said police had shot dead "four suspects" in the city, without giving further details.
This is the second outbreak of violence in Xinjiang in a month.
On 18 July, several police officials and a number of civilians were killed in an attack on a police station in the city of Hotan.
Chinese officials blamed the attack on "terrorists" from the Uighur minority.
Uighur activists said the security forces had provoked clashes by opening fire on a peaceful demonstration.
The majority of Xinjiang's population is ethnically Uighur - who are Muslims with strong cultural ties to Central Asia.
Our correspondent, Martin Patience, says many Uighurs are unhappy about what they say is the repressive rule of Beijing and are angered by the migration of the majority Han Chinese to the region.
In 2009, riots erupted in Xinjiang in which nearly 200 people died after tensions flared between the Uighurs and the Han.
http://www.bbc.co.uk/