05 July 2011
America 'gives way' to Islamic law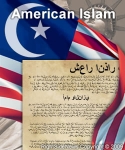 A terrorism expert and critic of Islam says several recent disputes over dress codes illustrate how Islamic supremacists want to force the West
into accommodating their religion's clothing standards.
Weightlifting's governing body recently agreed to modify its uniform rules to accommodate a Muslim woman, who argued that her religion requires that she cover her arms, legs and head. But that violates international rules governing weightlifting attire. Even so, the Council on American-Islamic Relations (CAIR) successfully pressured the International Weightlifting Federation to change the rules and allow the woman to wear a one-piece "unitard" under her uniform.

In Quebec, The Canadian Press recently reported that a 15-year-old Montreal teen was told she could no longer referee soccer matches unless she removed her head covering, known as a hijab. So the Council on American-Islamic Relations in Canada has promised to apply pressure to convince the soccer association to change its dress code.

"It's a political assertion; it's a statement, an attempt to assert the prerogative of Islam over American customs, mores, and practices," contends Robert Spencer, director of Jihad Watch.
"It's an attempt to assert that where Islamic law and practice and American law and practice conflict, it's American law that has to give way. So really, the insistence on the hijab is something that is being pursued in many arenas, and it's all an attempt to manifest an Islamic presence and the necessity of 'infidels' to accommodate Islamic practices."

Spencer goes on to point out that demands regarding Islamic clothing have created such trouble in France that the government has passed a law banning full-face Islamic veils anywhere in public.
http://www.onenewsnow.com/Culture/Default.aspx?id=1382278