05 July 2011
Christians wage holy war over 'offensive' Muslim signs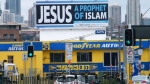 CONTROVERSIAL billboards proclaiming Jesus is a prophet of Islam will be rolled out in Adelaide.
The signs are part of a campaign claiming to promote religious tolerance.
The campaign will feature provocative ads saying Jesus a Prophet of Islam and will appear on billboards and public transport buses, Islamic group Mypeace says.
The campaign was launched in Sydney six weeks ago amid much controversy, with two billboards later vandalised and a Christian group countering the public statement with its own billboard campaign at a cost of $25,000.
The Mypeace advertisements - which included a contact number for information about Islam and offers of a free copy of the Koran - were displayed on four billboards and 40 buses and resulted in 65 complaints to the Advertising Standards Bureau.
"There will probably be a couple of billboards but we are not sure about how many buses," he said.
"We want to create greater tolerance and understanding of Muslims, it's about building bridges."
The campaign, funded by private donations, has been criticised by Anglican Archbishop of Adelaide Jeffrey Driver as insensitive.
"In the end billboards are a blunt way of getting a message across," he said.
"Perhaps what Australia needs more than billboards is genuine respectful and nuanced dialogue between its major religious traditions."
Catholic Archbishop of Adelaide Philip Wilson didn't comment on the campaign, but said if Jesus "is recognised by the people of Islam as a prophet then we are grateful for that".
Among the dozens of complaints to the bureau was one which said the advertisement "attacks all Christian beliefs".
Another said it "gives the wrong message to Christian children" while another wrote: "There is absolutely no chance a `Jesus is the Son of God' billboard would be displayed in Iran."
The bureau ruled the ad "did not discriminate against or vilify any person or section of the community on account of religion".
http://www.adelaidenow.com.au/holy-war-over-offensive-muslim-signs/story-e6frea6u-1226086257537