06 May 2011
Punjab: Muslim extremists attack, forcing Christian families to flee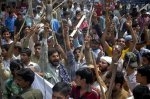 A mob attacks homes and places of worship. The Christian minority is forced to flee fearful of more violence. The discovery of a burnt copy of the Qur'an in a Christian cemetery sparks a reaction among Muslims. Restrictions are imposed on the right to assembly. Paul Bhatti meets victims, urging everyone to remain calm.
Lahore (AsiaNews) – Tensions are running high in Gujranwala, a town in the Pakistani province of Punjab, recent scene of repeated attacks by Muslim extremists against the Christian minority. Yesterday, a mob attacked Christian homes and places of worship, setting fire to a number of churches. Only the action of police prevented any loss of life and injuries. The attacks were sparked by reports that a burnt copy of the Qur'an had been found on Saturday. Muslim religious leaders responded by urging people to attack Christians. Scared for their lives, many families fled the area. Meanwhile, the authorities have begun enforcing Section 144 of the Pakistan Penal Code to limit public assemblies to a maximum of four people.
Speaking to AsiaNews, Fr Philip Gomes said he personally saw "episodes of violence in the Aziz and Gulzar colony" on Saturday. Police stopped the attackers, arresting some of them. Churches and other places of worship were placed under police protection during Sunday service, the clergyman added.
The authorities in Gujranwala also imposed restrictions on the right to assembly in accordance with existing laws. Security officials said that they took "all necessary steps to ensure that lives and property are saved."
Text messages were sent yesterday, claiming that an attack had been carried out that morning against Gujranwala's Saint John's Church. However, Fr Noel Paul, from the local parish, said that such rumours were "without foundation", spread by people "aiming at causing panic among Christians".
The priest condemned the "burning of the Qur'an", but insisted, "No Christian can do such an act in such a tense situation."
Fr Paul was referring here to the discovery of a burnt copy of the Qur'an in a Christian cemetery. The news sparked outrage among Muslims, who went on a rampage against Christians, their property and places of worship, egged on by loudspeakers.
Extremists threw stones and gunshots were fired against the Christian colony. A resident confirmed that many Christians fled Gujranwala. One mother said, "We live in constant terror."
Meanwhile, Paul Bhatti, president of the All Pakistan Minorities Alliance (APMA) and brother of Shahbaz Bhatti, the Minority Affairs minister murdered in March, visited the towns affected by anti-Christian violence.
The special advisor to the prime Minister on minority affairs expressed solidarity to the communities that were attacked, saying that the faithful "were not alone". He also urged them to stay calm.
In Gujranwala, tensions have been rising and anti-minority violence has been increasing for some time.
On 16 April, hundreds of Muslims attacked the Christian village of Khokarki, forcing its residents to flee.
A mob attacked a church, interrupting Palm Sunday services, sparking anger among Christians already shaken by the arrest of Mushtaq Gill, 60, vice principal of the Christian Technical Training Center (CTTC), an educational facility attached to the Gujranwala Theological School, and of his son, both on charges of desecrating the Qur'an.