06 May 2011
4 churches burned down in Nigeria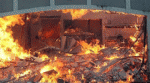 Muslim youth angered by the reelection of President Goodluck Jonathan have set fire to four churches in northern Nigeria.
"A crowd of young people, disappointed by the result, attacked the homes of some important leading politicians and other buildings of the Church," said Bishop John Namanzah Niyiring of Kano, Nigeria's second-largest city. "Hundreds of youths set fire to four churches, a Catholic primary school in Hadejia, a missionary station and other buildings of the Catholic Church. Other Christian denominations have been attacked too."
"Catholics, and Christians in general, just want a state that guarantees all the full right to religious freedom, in safety and peace," the prelate added.
Source(s): these links will take you to other sites, in a new window.