07 May 2011
Madonna splits from Muslim lover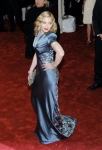 Queen of Pop Madonna has split from her toyboy lover Brahim Zaibat, a strict Muslim, over religious differences.
Zaibat, 24, a hip-hop dancer, had been seeing Madonna, 52, who is devoted to Kabbalah, for nine months.

"Brahim's family had told him they did not want him going to Kabbalah
meetings and wanted him to stick to his Muslim beliefs, which caused some rows," the Daily Mail quoted a source close to Zaibat as saying.

"Things started to turn sour and they were hardly seeing each other," the source said.

A friend of the hip-hop dancer revealed that Zaibat is happy with the decision.

"Who's Madonna? Brahim has been home and he's a single guy," the friend said.

"He is no longer an item with Madonna. He's very happy. There's nothing more to say," the friend added.