22 February 2010
Catholic migrant in Saudi Arabia: Three years without a day of rest and mass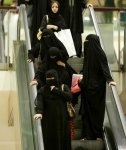 In the Islamic country there is no freedom of religion. In order to keep her faith alive the woman took refuge in her room to pray. Filipino bishops call on the faithful to pray and reflect on the plight of workers abroad.
Manila (AsiaNews) - "During my three years working in Saudi Arabia I was never allowed to leave the house or have a day off to go to mass". This is the story of Rebeka Perlas, a 35 year old from the Philippines, who until last week was employed as a maid in a Muslim family in Riyadh to maintain her two sons. "The only thing I could do – she adds – was get up every morning at 3 and recite the rosary on my knees in my room, before beginning my days work."
The woman is one of more than 10 million Filipino workers forced to emigrate abroad to support their families. Of these, over 200 thousand are residents in Saudi Arabia, where there is no freedom of religion and all religions other than Islam are banned by the Wahhabi kingdom.
In Saudi Arabia it is forbidden to build churches and other places of worship, carry religious symbols, or hang images in homes. The religious police (Muttawa) has tight controls to ensure these rules. The government rarely allows the celebrations of Mass in private and in some embassies. However the ease of finding employment continues to attract migrants who support the terrible working conditions, the risk of forced conversions and sexual abuse. There are a total of 8 million foreigners living and working in the kingdom. According to the Philippine Overseas Employment Administration (POEA) from 2007 to 2008, emigration to the Middle East has seen an increase of 29.5%.
Perlas Rebeka says: "My employer was hard on me, but I was never allowed to go to church, despite my repeated requests." The woman says that in these three years it was difficult to not to receive the sacraments, but she had no choice. "I love Jesus and the Virgin Mary and prayed every day during this difficult period. Only daily prayer and faith in God allowed me to survive in the Muslim world. "
The Philippine Church yesterday celebrated the 24th National Day of migrants entitled "Economy and Sustainable Development: the keys to effective reunification of immigrant families."
On this occasion the bishops of the dioceses have invited the faithful to pray and reflect on the plight of workers abroad and their families. "On this day we remember the sacrifice and the difficulties of the millions of migrants abroad - said Fr Gil A. Alingasan of the Archdiocese of Manila - and urge them to stay away from the temptations of material gain that underlie this phenomenon, pointing out their potential in spreading the Gospel. " Through this celebration, the Church has asked the government for more economic measures to increase jobs in the country and stop the Diaspora of the Filipino people.