23 February 2010
Liverpool rapists scream abuse at victim after being jailed at Liverpool Crown Court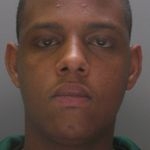 TWO rapists were wrestled to the cells as violent scenes erupted when were put behind bars for a total of 17 years.
Sadiq Hussein, 20, and Abdillahi Adan, 18, hurled vicious abuse at their victim as they were each locked up for eight-and-a-half years. Hussein, of Chatsworth Drive, Edge Hill, and Adan, of Daniel Davies Drive, Toxteth, both denied rape, but were convicted by a jury.
The pair tried to jump from the dock and had to be restrained by security guards and police officers as they screamed threats and insults at their 18-year-old victim.
Liverpool Crown Court heard they had "preyed upon" their vulnerable victim and led her into Princes Park, Toxteth, after she asked for directions.
Judge David Aubrey QC said: "While you both raped her, one after the other, she was distressed, she was crying, she was crying for help and she was crying for you to stop.
"Her fear, anxiety, apprehension, trepidation is in my judgement immeasurable.
"But notwithstanding her cries for you to stop and her cries for help neither of you desisted."