01 January 2010
Finnish police: shooter likely chose his victims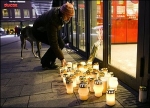 ESPOO, Finland -- The gunman who killed five people during a shooting rampage in Finland apparently chose his victims, police said Friday.
Chief investigator Esa Gronlund of the National Bureau of Investigation told reporters that a preliminary investigation has indicated that Ibrahim Shkupolli's method of shooting the five Finns, most of them at a shopping mall in the town of Espoo, suggest that he had planned Thursday's slayings, though the investigator declined to provide details.
The 43-year-old Shkupolli, an ethnic Albanian immigrant from Kosovo, committed suicide after his attack.
Investigator Henrik Niklander said police are examining the relationship between Shkupolli and the people he gunned down in Espoo, which is a few miles (kilometers) outside the Finnish capital, Helsinki.
"The fact all victims were employees of the (same) Prisma store seems to indicate that we're not dealing with a coincidence," Niklander told The Associated Press.
Previously police had been reluctant to speculate whether the killer fired his handgun randomly in the Sello mall in Espoo, Finland's second biggest city, or if he had chosen his victims.
Four of those slain - three men and one woman - were working in the Prisma grocery store when they were shot. The fifth victim - Shkupolli's former Finnish girlfriend - had been an employee at the same store, though she was found dead in a nearby apartment. She had won a restraining order against Shkupolli, who allegedly had stalked her for years.
After killing his victims, Shkupolli returned home and committed suicide. Police found his body after launching a citywide manhunt.
Shkupolli arrived in Finland in 1992, the Interior Ministry said. He applied for Finnish citizenship but was rejected due to his criminal past, which included assault, traffic violations and an arrest in 2003 for carrying an unlicensed gun.
During Thursday's rampage Shkupolli used an unlicensed handgun, a fact that has stirred intense debate in the Nordic country after two deadly school shooting over the past two years. Finland has a long tradition of hunting and ranks among the top five nations in the world regarding civilian gun ownership. The country of 5.3 million people has 1.6 million firearms in private hands.
In a condolence message, Prime Minister Matti Vanhanen noted the large number handguns in Finland and said the probe into Thursday's shooting would "focus on the unlicensed gun and how the shooter obtained it."
In September 2008, a lone gunman killed nine fellow students and a teacher at a vocational college before shooting himself to death in the western town of Kauhajoki.
In November 2007, an 18-year-old student fatally shot eight people and himself at a high school in southern Finland.
Finland's 5,000 Kosovar Albanians have expressed concern that Shkupolli's rampage will increase public anger against foreigners during a debate now taking place among lawmakers and the media regarding immigration and the social benefits immigrants receive and their overall status in the Nordic country.
Driton Nushi, a Kosovar Albanian community leader in Finland, said he hoped the public won't misunderstand the crime.
"Do they take it as an individual case or do they think wrongly - as some of them already do - that all the foreigners are behind this?" Nushi said in an interview with Associated Press Television.
"It's only an individual, a family case, a crime of passion. Nothing else, nothing more," Nushi said.