01 January 2010
Filipino migrant in Saudi Arabia: exploited and mocked for her faith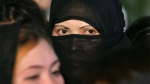 Manila (AsiaNews) - "My Life in Saudi Arabia was like a prison and the anguish of those moments was unbearable." This is the story of Norma Caldera, a Filipina domestic worker who emigrated to work in Saudi Arabia and escaped after seven months of constant
harassment due to her Catholic faith. "Every day I got up early to pray – she tells - and every time my colleagues and employers saw me they began to insult and mock me for my Christian faith."
Like 10 million other Filipinos, Norma was forced to leave her country to seek work abroad. For 17 years she worked in Hong Kong, but the crisis has forced her again to leave to go to Saudi Arabia to work as a maid in a family. The Arabian country employs around 200 thousand Filipinos. These as well as being exploited and poorly paid, are subject to verbal and physical violence because of their Christian faith. The last case concerns a girl, Sylviane Hugilon Baser, who died in mysterious circumstances. So far, Saudi authorities have refused to provide explanations about her death and to return the body to the family which has been lying in a morgue for months.
"When I told my employers that I was Catholic and wanted to die a Catholic, the first thing they did was lower my salary from $ 1,000 to 700," says Norma. "During Ramadan – she continues – they forced me to fast with them. For me it was difficult to work with the same pace without being able to eat. But unfortunately I had no choice. " The woman adds that in the seven months of work she was not allowed to leave, even to go to Mass on Sunday. She also did not have her own room or a bed to sleep. The only place to rest was the kitchen floor or a tent pitched in the backyard.
"I lived this occasion, praying and having faith in God - she continues - I was willing to make this sacrifice to be able to pay for my two daughters education."
On 29 December, the woman returned to the Philippines, five months before the expiry of the contract. Norma says that he will try to find work at home or in another non-Islamic country.