01 January 2010
Mauritania: Al-Qaeda sites publish photos of kidnapped Italians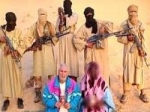 Dubai, 31 Dec. (AKI) - Al-Qaeda's North African branch on Thursday released a statement on jihadist websites claiming responsibility for the two Italians kidnapped in Mauritania in mid-December. The Al-Qaeda Organisation in the Islamic Maghreb also published photos of the abducted couple, Sergio Cicala and his wife Philomene Kabouree.
The latest message followed a message broadcast by Arabic satellite TV channel Al-Arabiya three days ago, purportedly contained the voice of Al-Qaeda Organisation in the Islamic Maghreb's spokesman Salah Abu Mohamed.

Al-Arabiya also published photos of Cicala and his wife sitting on the ground flanked by five masked, armed men.

Sixty-five-year-old Cicala was unshaven, wearing a tracksuit and holding his Italian passport and Kabouree's face was obscured.

Kabouree is from Burkina Faso. She has dual Italian and Burkina Faso citizenship.

Al-Qaeda said the abductions were retaliation for the Italian government's action against Islam and Muslims in Afghanistan and Iraq.

Cicala and Kabouree had been travelling to visit members of Kabouree's family when they were abducted by a group of armed men. Their bullet-ridden vehicle was discovered 1,000 km south of the country's capital, Noakchott on the road to Kobeny.

There has been no news on the fate of the two tourists for the past two weeks.

Italian foreign affairs minister Franco Frattini said the government was doing everything possible to obtain the release of the hostages.

Last week Frattini spoke by telephone to his Mauritanian colleague, Naha Mint Mouknass. The Italian government was also working with Spain and France to help secure the couple's release.

Mauritania has increased security for tourists in the country following the abductions of the Italians.

The couple lives in the Sicilian city of Carini, near Palermo.

In a statement posted on its website on 19 December, the Italian foreign ministry asked for media discretion to guarantee the safety of the hostages and to promote a positive solution to the case.