21 March 2009
Bosnia: 'Islamisation' prompts calls for Croat entity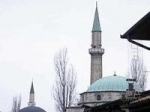 (AKI) – Croat groups in Bosnia have denounced what they call the 'Islamisation' of the Muslim-Croat federation and have prepared a document demanding their own entity, local media reported on Thursday.
Bosniacs (Muslims) are the main political problem in Bosnia-Herzegovina, because they openly strive for hegemony, counting on their majority, " Croat activist Leo Plockinic told journalists.

Plockinic said Croats had the worst deal of all of Bosnia's three main groups and were being subjected to assimilation by majority Muslims.

He is president of the 'Alternative Government' Croat association and the non-governmental organisation Croatia Libertas.

"One of the biggest problems in Bosnia is the unity of Bosniac politics and Islam which is turning Bosnia into a Sharia state," Plockinic said.

"In Bosnia-Herzegovina and Sarajevo, Islamisation is being implemented at full speed," he added, claiming this damaged Croats and Serbs as well as the country's European integration bid.

Plockinic said the document prepared by the Croatian groups will be submitted to the parliament for approval. But most decisions in Bosnia's institutions are made by consensus and could be blocked by any of its three main groups.

Under the Dayton peace accord that ended the 1992-1995 war, Bosnia was divided into two entities, each with most of the powers of a state - the Serb entity and the Muslim-Croat federation.

But Bosnia's majority Muslims have been calling for the abolition of both entities and the creation of a single state.

Serbs, Bosnia's second biggest ethnic group, have responded by threatening to hold a referendum on independence. Croats have complained of discrimination in the federation with Muslims and want their own entity.

The European Union has tied Bosnia's entry into the European Union to constitutional and police reforms.
POSTED BY / http://www.adnkronos.com