18 March 2009
Mosque-goer admits revenge street attack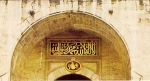 WATFORD: A man suspected wrongly of carrying out an arson attack on a mosque was beaten up by two men.
Liam Cadby was punched and repeatedly kicked in the head during an unprovoked attack in Sherriff Way, Watford, on Wednesday, August 13, St Albans Crown Court heard on Monday.
Mohammed Aziz, 18, of High Road, Leavesden, pleaded guilty to ABH, but denies kicking the victim.
Peter Shaw prosecuting, said Aziz and another man, Zain Hussain launched the unprovoked attack near the Kingswood subway.
Mr Cadby told police Aziz punched him to the chest before Hussain landed a blow to his left eye. As the victim lay curled in a ball on the floor, both men kicked him in the face, he said, as he shouted "my tooth, my tooth". The attack left Mr Cadby with two broken front teeth and swelling to his eye and nose.
Although admitting the assault, because Aziz denies kicking, there may be what is known as a Newton hearing, so called because it establishes the gravity of the offence.
Mr Shaw said: "We say the victim was kicked two to three times to the head, but neither defendant admits kicking to the face.
"The prosecution need to decide whether to accept the plea or hold a Newton hearing."
Aziz was released on conditional bail prohibiting him contacting prosecution witnesses or entering Haines Way and Sherriff Way, Watford, for a further hearing on March 23, before sentence.
POSTED BY / http://www.watfordobserver.co.uk