17 March 2009
Bulgarian mayor questioned over radical Islam issues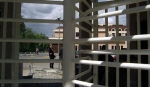 The mayor of Gurmen municipality in southwestern Bulgaria, Ahmed Bashev, has been detained for questioning by the State Agency for National Security (SANS) as a
result of a prosecutor's probe into allegations of causing religious and national hatred, Bulgarian news agency BTA said on March 16 2009.

The news about Bashev's arrest was first announced by the private national broadcaster bTV, which quoted its own sources from SANS. Now SANS has confirmed it for BTA.

Bashev was arrested together with Mourat Boshnak a teacher in the village of Ribnovo, part of Gurmen municipality. According to bTV the two have been detained because of allegedly "teaching of radical Islam".

Independent MP Yane Yanev was the first to voice the accusations on March 14 2009, when the two got into a bitter verbal fight on a bTV talk show on the subject of whether there was a tendency for the spreading of radical Islam in the western Rhodopi mountains, where the population is predominantly Muslim.

So far, SANS has only said that it has detained Bashev and Boshnak, giving no further details.