21 March 2009
Facing the sack and vilified by local Muslims ... but the Postman Patriot insists he won't back down on his pro-British stance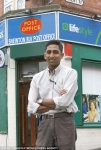 Deva Kumarasiri looks remarkably unruffled. His royal-blue shirt is clean and crisp, his stripy tie is immaculately knotted, his trousers beautifully creased, his glasses polished to a shine and his mobile phone clipped to his belt in a neat, Velcroed holster.
Indeed, as he sits behind his Post Office counter, smiling through the smeared glass and dolling out stamps, family allowance payments and helpful advice to a queue of customers, he couldn't look more professional and composed.
Which is a bit of a surprise, because he's had a pretty torrid few days. Vilified and cheered in equal measure, he's been in countless newspapers, on the radio and on television and has whipped up a right old storm in internet chatrooms.
Yesterday, the chairman
Just in case you haven't seen a paper, or the news, or turned on the radio in the past 72 hours, Deva is a Sri-Lankan-born postmaster and father-of-two.
For the past six months, he has been running the very small - you can barely move behind the counter with all the parcels, papers and Jiffy bags - but very busy Post Office in Sneinton, a particularly multicultural area of Nottingham.
He also flies enormous Union Jack flags from his home and Land Rover Discovery and, earlier this week, admitted he had introduced a rule for his customers - 'No English, no service.'
If they can't even be bothered to learn English, he tells them, they must go away and learn it, or come back with a translator.
The ban was certainly a major talking point among many Muslims attending prayers yesterday in an area of Nottingham with a large Urdu-speaking Pakistani community.
'There is a strong feeling among some local people that this is wrong,' says Aurangzeb Kahn.
But Deva isn't ruffled. 'I don't expect everyone to agree with me,' he says.
'It was inevitable that those who don't want to be fully integrated into this country would do something about it. It's all been quite surprising and I'm afraid I'm a little tired - it was a bit of an early start today because my mum phoned at 3am to say my face was all over the Sri Lankan papers!
'So now I'm all over the world ... it's extraordinary. All I'm doing is telling people if they want to live in Britain, be British,' he explains excitedly and at breakneck speed.
'Embrace it, be proud of it and most of all, be part of it. Don't live your life without embracing our culture. Don't boo our soldiers when they come home from Iraq - whatever you think of the war.
'And don't bother staying here without trying to learn the language.'
Flying the flag: Deva has had a Union Jack for eight years
His comments have caused quite a stir - among his customers, who were taken aback to learn of this new policy, but also among a small handful of ill-informed locals who shout 'idiot' and 'madman' as soon as he steps out the shop, and a bunch of vitriolic internet bullies who seem to have got the wrong end of the stick.
Because startling though it is to hear anyone quite so outspoken on such a sensitive subject in 21st-century Britain, you need only meet 40-year-old Deva to realise his heart's in the right place, even if his chat is rather relentless.
All he wants is to protect his beloved adopted country and, of course, his customers. 'If I can't understand what they want, then I can't give a proper service, so I'm frustrated and they're missing out.'
He's right. The stream of old ladies, young Asian mums, Pakistani men with parcels and Kurds making a cash withdrawal are all happy to stand in line - while he chats and helps - with no complaints.
'Ooh, he's great. He's so kind. And helpful. But how can he help someone if he can't understand what they want?' one says. 'All he wants is for people to be proud to be British.'
So what is his love affair with Britain all about?
'Ever since I was a boy - growing up in a village outside the Sri Lankan capital of Colombo and learning English at school - I have loved Britain and everything that the British left behind.
'We still have the laws, the schools, the courtesy and the discipline. Like many Sri Lankans, I've always been proud to be associated with Britain and I always dreamt that one day I would come here.'
And so he did, in 1991. First, he had to sit a citizenship test, which appears to be the first British thing he does disapprove of.
'Ah, that stupid test, you'd never believe some of the questions - like when was the Church of England established and how old do you have to be to buy cigarettes! Why do we need to know that to become a citizen? It was silliness.'
'I've had a Union Jack flag flying for eight years'
Still, he passed, swapped his Sri Lankan passport for a British one and married Durga, 39, a fellow Sri Lankan. He gave up his studies in electronics to work in a garage and a warehouse, before setting up a catering company. He then trained as a postmaster and became a Liberal Democrat member of Gedling Borough Council.
'I was happier providing a service than studying,' he says.
Deva talks a lot about service. Service to his adopted country: 'I am desperate to do all I can to make Britain better'; and service to his customers: 'I love helping people and will do anything I can to do so.'
Unless, of course, they don't speak English? 'It's not like that,' he says earnestly. 'I would never criticise people who try. If they use even a single English word, like 'stamp', or 'please', then I'll go to the ends of the earth to help and encourage them.
'But when it comes to those who refuse to understand the language, or make any effort, then they're not helping themselves, so I'll say: "My mother tongue is at home and this is not the place to use it - here we're British.'"
But hasn't that caused unpleasant scenes?
'Oh no, no, no! No one has minded - they've all come back with translators and are still my customers. And look at the queue - I'm hardly short of customers.'
Deva in his home country of Sri Lanka, which he left at the tender age of 20
Which is true, but it doesn't seem much comfort to the owner of the shop in which Deva's Post Office business is based - a great glowering Pakistani called Raja Rizwan, who's clearly furious at all the publicity (though all the news crews must have been good for business) and every few minutes interrupts with mutterings of evictions and sackings.
Deva looks thin and vulnerable and young next to him, but he also looks like he won't be bullied.
'I am the postmaster and I am trying to make this a better place. So whether you're white, or black, or Asian, or whatever, we should be one nation, one community, one flag...
'And speaking of flags,' he rattles on, 'I've had a Union Jack flying from my house for eight years. It's the biggest you can get - this big,' he says, stretching his arms wide.
'And you know the funny thing? It's a bit tatty, so I've tried to have it replaced, but I can't get one anywhere - they don't seem to make them any more - there's no demand.'
He has a history of putting his money where his mouth is. Last year, in his role as councillor, he was so worried about all the hoo-ha surrounding rubbish collections and charges that he went out with the bin men on their rounds.
'I thought it might help me to understand the job from their perspective,' he says. 'It was great fun - while it lasted.' It was barely a day before Health and Safety officials intervened to put a stop to it.
And when great swathes of Sri Lanka were devastated by the tsunami in 2004, he masterminded a fundraising project in Nottingham, which raised enough to rebuild a small development on the island, now known as Little Nottingham.
'We did a good job,' he says. But while he's done an awful lot for other people, he's not had the best of luck himself. First, his catering business failed, then he got a job as postmaster in the nearby Carlton Valley area of Nottingham.
'I thought I had a job for life - I bought a house and built a second, I made dreams for my retirement - but the Royal Mail shut it down. I was struggling to pay my mortgage and the bank charges went up, so I came here. But I'm not complaining.'
Standing up for his country: Deva says he is proud to be British
It's a miracle he's not. What with all the insults and idiots and the bigoted comments he's had to deal with, does he ever feel he's banging his head against a brick wall?
'No. Never. I'm a very optimistic person, so I don't think like that.'
But he does worry about the impact that immigrants not being able to speak the language are having on our nation.
'We have a terrible problem in Britain today.
'We don't know who our neighbours are, we're losing our sense of community, and it can only get worse if your neighbour doesn't speak the same language, because then you get lack of understanding, and fear, and so often racism.
'It's all down to language. The fabric of the nation begins to unravel if we don't speak the same language.'
Deva has equally strong views about the Government. Gordon Brown is an 'idiot'; David Cameron is just 'Oh no... and way too green'.
And he frets constantly about the neglect of the working classes. 'The taxi drivers, the bin men, the nurses, the dinner ladies - they're not being appreciated.'
So who would he like to see running the country?
'Sir Richard Branson,' he says brightly. 'He's the one person I do so admire. He's such a can-do person. I'd love to see him sorting out our businesses and services.'
Anyone else? 'Oh yes, Jeremy Clarkson! He's my favourite. He's not afraid to speak his mind, particularly on the environment. And that radio presenter... has his own show - ooh, what's his name? James Whale! That's it.'
Goodness, James Whale? Time to get back to the matter in hand and why Deva, an immigrant himself 18 years ago, feels he should be the one to stick his head above the parapet when it comes to Britishness and speaking the language?
He says: 'Simple - I had to say something, because too many people are afraid to. The person who's born here can't do anything or he'll be accused of being a racist, you can only complain here if you've got brown skin.
'And the white man, what does he do? Nothing. He has to keep it under his clothes, or his hat, or whatever we say, until it builds up and up like a balloon, until one day it'll explode and we'll have riots and hatred and I don't want that. I just want people to be proud to be British.'
'I had to speak up because others are afraid to'

He's an unlikely hero. What you see is what you get, he has no secret agenda. He likes curries, Scotch whisky, playing with his two daughters Shahani and Heshini, World War II movies, nature documentaries and helping with the housework.
'I like cooking and gardening, though not so much cleaning. My wife won't let me do much because she thinks I'm a poor cleaner.'
And do they speak Sri Lankan at home?
'Oh no! Not the girls. I want them to be proud that their father and mother are Sri Lankan, but they are British and this is their country. They have already decided they're going to be doctors in the RAF.'
They are only eight and ten, but they will certainly get a lot of encouragement from him. He is teaching them the words to the National Anthem - 'they should know it already, this is their country, but you can't learn the National Anthem, or fly the flag, or you'll upset the minority - that's ridiculous.'
And the future? He's made a very impressive stand, but by the end of our chat, it looks increasingly likely he won't have a job by next week.
'Oh, I try not to worry as things usually work out. I'll carry on fighting for the working people. Now I've started trying to save the country, I suppose I'll just have to carry on.'
And with that we bid our farewells. Me sidling past a cross Mr Rizwan (who glowers and promises 'there'll be a new postmaster by Monday'), and Deva, waving unconcernedly from behind his shabby counter.
I leave feeling strangely touched by our meeting. With all that chatter, he's not someone you'd choose to be cooped up with for too long, and I'm a bit alarmed by his enthusiasm for Jeremy Clarkson and James Whale.
But Deva is also a good, kind, big-hearted man, who has that terribly rare thing in 21st-century Britain - the courage of his convictions and the confidence to speak out.